By Daisy Cabrera
Between the dazzling star power; engaging industry seminars; informative Q&A sessions; entertaining after parties; networking and mingling with like-minded peers; and film screenings galore - the 23rd annual American Black Film Festival (ABFF) on June 12-16 was bigger, better, brighter, and bolder than ever before. The multi-day event took over Miami Beach: Betsy Hotel, Capital One Café, Loews Hotel, Miami Beach Cinematheque, Nikki Beach, Regal Cinema, The Bass Museum, W Hotel, The 1 Hotel South Beach.
"Twenty-three years ago, there were only fifteen of us working behind the scenes and about 100 attendees. Today, we've become the premiere event for Black Hollywood and host more than 8,000 attendees every festival," said ABFF Ventures' Founder and CEO, Jeff Friday. "Initially, I had the thought that we needed a space to collaborate with each other and have time to celebrate each other and our upcoming projects. That vision has not only led to some amazing collaborations but also birthed a legacy of identifying emerging talent and solidified a strong presence within the Miami Beach, Miami, and Dade County communities with our community outreach efforts."
With celebrity ambassador La La Anthony in tow, ABFF brought together a jam-packed audience of up-and-coming, next generation producers, writers, actors, showrunners, editors, composers, creatives, photographers and directors. Anthony said, "We have proven that we support each other. We watch our films and TV shows. We're one big family, and when we put something out – we all watch it. That's why it's important to continue the message that we do support each other – just like we're here at ABFF. It starts with us, and we want to continue to cultivate that."
The event also brought together an equally impressive roster of sponsors: HBO, BET Networks, Cadillac, Comcast NBCUniversal, Dream Black AT&T, Capital One, Hilton, Prudential, WarnerMedia, AMC, American Airlines, Crown Royal, The Motion Picture Association of America (MPAA), Netflix, Sony Pictures, TV One, FX Networks, OWN, Disney, IFC Networks, Aspire TV, Facebook, Jack Daniel's Gentleman Jack, Warner Bros., Verizon Media, Spotify, truTV, UMC, and more.
Friday explained the goal is to organically connect top-tier brands with ABFF's spirited and unique festival community. The support fuels the festival's growth and allows the must-attend event to expand programs that acknowledge emerging talent in front of and behind the camera. "This year alone, an attendee received an on-the-spot offer for her idea during a panel event, and our first female awardee was named as 'Best Director' during the 'Best of the ABFF' awards presentation. ABFF is not just an event, it's a catalyst for change," he added.
Our very own Greater Miami Convention & Visitors Bureau (GMCVB) was a presenting sponsor. Connie W. Kinnard, VP of Multicultural Tourism and Development shared, "The American Black Film Festival is highly regarded as the premier film and entertainment conference in the country dedicated to helping elevate persons of color in the industry and is definitely one of Miami's premier events!" Together with ABFF, GMCVB hosted a free community day of screenings and conversations at The Black Archives Historic Lyric Theater in Overtown.
In 2017 alone, the Motion Picture Association of America reported the number of frequent Black moviegoers nearly doubled to 5.6 million. Clearly, there is a need to not only support and showcase Black talent, but to also share Black stories and experiences. "ABFF sends the message to Hollywood that the African American community is complex and powerful when we work together," Friday stated. "We deserve the same opportunities as our counterparts and demonstrate that when given those opportunities, we can be very successful."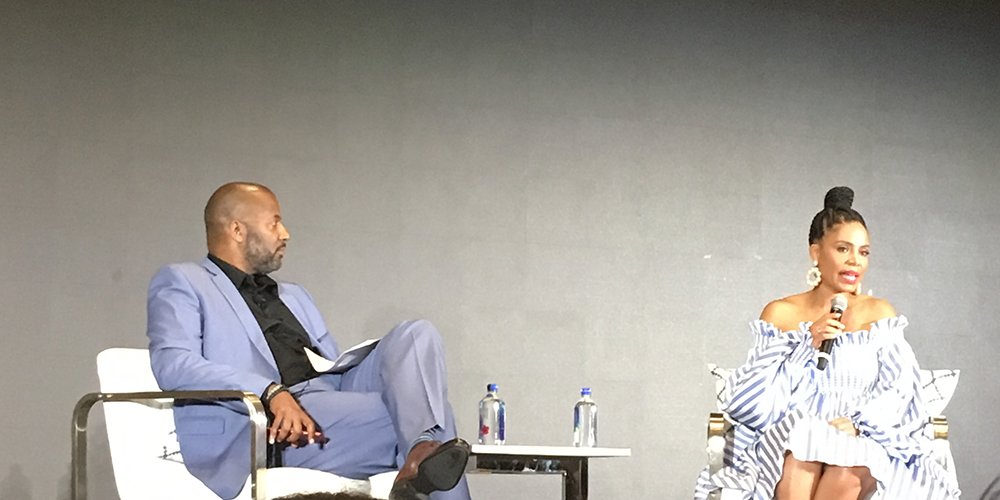 Opening night presented the hilarious action flick, Shaft with an introduction by Black Excellence: Samuel L. Jackson, Richard Roundtree, Tim Story, Jessie T. Usher, Alexandra Shipp, Lauren Velez, and Method Man. The following night, Beats was screened with appearances by Anthony Anderson and Khalil Everage. Other noteworthy screenings, with on-stage appearances, included: The Black Godfather, The Bobby DeBarge Story, First Wives Club, For Life, Fatherhood: The Foundation of The Black Family, Snowfall, Laff Mobb's Laff Tracks, David Makes Man, Burden, The Inkwell, Ambitions, Legacy Lives On, and Sherman's Showcase.
Let's name drop industry talent that was in the house: Spike Lee, Omar Epps, Larenz Tate, Meagan Good, Phylicia Rashad, Lakeith Lee Stanfield, Lil Rel Howery, Diallo Riddle, Delroy Lindo, Yvette Nicole Brown, Victoria Rowell, Robin Givens, Stefon Bristol, Tanika Ray, Datari Turner, Deon Cole, Niecy Nash, Laz Alonso, Essence Atkins, Affion Crockett, Kenny Lattimore, LisaRaye, Janine Sherman Barrois, Brian White, Malinda Williams, Yaya DaCosta, Nafessa Williams, Tarell Alvin McCraney, Chris Spencer, Sarunas Jackson, Master P, Romeo Miller, Cymphonique Miller, Bevy Smith, George Tillman Jr., Chyna Layne, Steven Caple Jr., Porsha Williams, JuJu Casteneda, Karen Huger, Roshon Fegan, Russ Parr, Peter Ramsey, Damson Idris, Carter Hudson, Erica Ash, Amin Joseph, Akili McDowell, Dee Harris-Lawrence, Alana Arenas, Matty Rich, Will Packer, Matthew A. Cherry, Jamey Giddens, Kendrick Cross, Nakia Stephens, Bashir Salahuddin, Sarunas J. Jackson, Ester Dean, Reginald Hudlin, Blue Kimble, Adrian Marcel, Jocko Sims, LaRoyce Hawkins, Nyambi Nyambi, Damaris Lewis, Funny Mike, Angela Lewis, Isaiah John, Michael Hyatt, Roland Martin, Kofi Siriboe, Odetta Watkins, Kevin E. Fortson, Jacob Latimore, Tobias Truvillion, Darrin Dortch, JoiStaRR, Nicq Hale, Sinqua Walls, Niles Fitch, Dondre T. Whitfield, Demetria L., Boots Riley, Kay Oyegun and more.
Through the years, some of the biggest names in entertainment have graced ABFF including Denzel Washington, Diahann Carroll, Jamie Foxx, Idris Elba, Kevin Hart, Dwayne Johnson, Tracey Ellis Ross, Regina King, Don Cheadle, Octavia Spencer, Lawrence Fishburne, Ava Duvernay, Regina Hall, Kerry Washington, Gabrielle Union, Taraji P. Henson, Morris Chestnut, Star Jones, Nate Parker, Jenifer Lewis, Kim Whitfield, Ne-Yo, Taye Diggs, Sherri Shepherd, Omari Hardwick, Tyson Beckford, Darrin Henson, Rev. Run, Bobby Brown, Jesse Williams, Robert Townsend, Harold Perrineau, Nia Long, Jay Ellis, Faith Evans, Nicole Ari Parker, Boris Kodjoe, Terrence Howard, Lance Gross, Tasha Smith, Mona Scott-Young, Keke Palmer, Tichina Arnold, Common, Cedric the Entertainer, Ice Cube, Mike Epps, Jasmine Guy, Vanessa Bell Calloway and endless others.
According to Friday, one of the most influential friends of ABFF was John Singleton – who remained a dedicated and involved partner attended 17 of the 23 festivals, and participated as a master class instructor, panelist, and longtime confidant. This year, ABFF paid tribute to the late, great talent by screening Boyz N The Hood. Next year, the event will honor his career and legacy with the inaugural 'John Singleton Best First Feature' Award.
The inspiring series of "ABFF Talks" throughout the event delivered an unparalleled amount of education, enlightenment and empowerment. It was emerging producer Angellic Ross's first time attending ABFF. "I look forward to networking with other filmmakers. The goal is to have my film screen next year, so I'm hoping to learn the ropes and how to set myself apart as a producer."
The "Keep Rising" keynote conversation presented Malcolm D. Lee interviewing Sanaa Lathan. Sanaa, whose Swahili name means "work of art" shared her experience with the eager attendees - "Up until just a couple of years ago, there were literally a handful of us working and going for the same roles. It was really kind of wonderful because we had a sisterhood - and still do - Gabrielle Union, Taraji P. Henson, Regina King, and Regina Hall. It was a lot of positivity, and completely the opposite of what you would imagine since it's such a competitive business. But I'm a strong believer that what's yours is yours." Her advice to directors - having a specific vision is a gift to actors and crew, hire the best, and be open to pushing the scene.
Lathan added, "We're living in a world that is so fast, and there's so much instant fame that people take for granted real work and real study. Don't get stuck. Sometimes I will get an acting coach, depending on the role. And, I can teach acting! Only 1% of people who call themselves actors make a living with it. So, keep working on your craft, go to classes, do other areas like theater, and beat the odds. The key is perseverance – even when you're getting a lot of criticism and rejection. Build a thick skin so that you're not taking it personally. Have a higher philosophy about it. It's also nice to go back and see the things you didn't get and be able to see why."
During "The Come Up: A Conversation With The Stars Of NBC" panel discussion, Ego Nwodim shared, "It takes time to find your voice, but once you do find it – going full force with it makes all the difference. Also, we need to see authentic portrayals of Black women because we are people, we have imperfections. We all deal with the complexities of ourselves, and it feels like we want people to see us this way – as a beacon of strength – like we can't have any flaws. But, that's not what it is to be human. A nuanced portrayal of Black women, as we are, would be complex, imperfect in many ways but still amazing, too."
The "About Women" session, moderated by Jemele Hill, brought multi-generational women of color to talk about their experiences in Hollywood. "We cannot forget that the feminine energy of the earth is rising, and so many of us have done our internal work over the last 25 years. We are now standing in a different way, expecting different things from ourselves and for ourselves," expressed Iyanla Vanzant. She also suggested to ask for what you want, say it with clarity, and don't back down. "We are creating a new image of who we are. It's not a trend. We've had 100 years of masculine energy and intellect in control. Now we're moving from the heart. And, girls rock."
In turn, La La Anthony advised the audience to expand, "I refuse to be put in a box. I don't understand the mentality that we can't do more than one thing and be great at more than one thing. Now when you are presented with these opportunities, you have to be prepared and show up. At the end of the day, the work will speak for itself."
Tracy Oliver, the first Black woman to write a film grossing over $100 million, told the crowd, "There's definitely a lot of pressure for women to act a certain way. I've watched my own evolution in the past few years. In the beginning, I was scared to speak up. I'd get on a lot of calls where I'd be the only woman on the call. In the feature world, there's not a lot of female script writers. At that point, most of the men were executives, producers, directors and even when the content was about women – I was still afraid to voice when something didn't ring true to me. And, I would kick myself later for not saying something or if a man said it before me."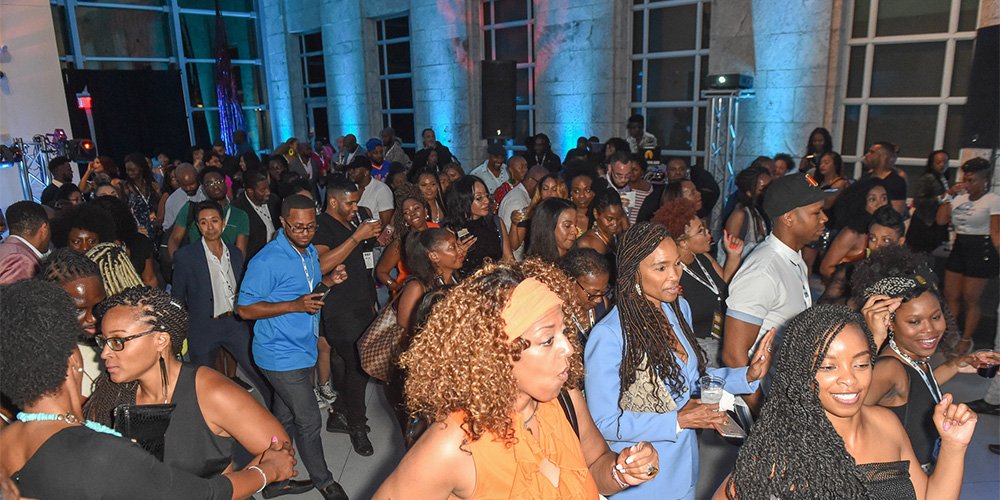 Marsai Martin (the youngest executive producer in Hollywood!) participated in a dynamic fireside chat and revealed she created a 'Black Girl Magic' playlist for Spotify. The talent plays music all the time, would love to collaborate with Rihanna, Beyonce is her favorite Black girl magician, and 'Earfquake' by Tyler, The Creator is on heavy rotate. "We need to see more on screen that reflects our culture. I see a lot of movies and TV shows that tell stories that don't relate to me. They don't look like me. They're sharing black pain or stories of slavery. We want to be the common person in the film. We need to be shined on - but in a different light. We want to express ourselves and tell our stories."
In addition, ABFF hosted film and comedy competitions as well as seminars focused on the art of directing, producing film and television, leveraging crossover opportunities between music and film, the business of entertainment, young actors in Hollywood, the importance of comedic films, Black beauty representation in film and television, common legal issues when making deals, the power of documentaries, writing for TV, growing within the industry, the process behind rating films, developing and pitching stories using innovative technology, and more.
The 2019 award winners of "Best of ABFF" were Ibrahim Yilla, Numa Perrier, Riley S. Wilson, Marshall Tyler, Piper Dellums, Sha-Risse Smith, Essence Atkins, Numa Perrier, Alexis Damita, Ty Davis, Jazmin Bailey, Dennis Pastorizo, Jasmine Styles, Krystal Vega, Domonic Smith-Weston, Darnell Brown, and Claytia Gonsalves.
"I love that ABFF provides a platform for young and emerging creatives. We have facilitated hundreds of success stories including Ryan Coogler (Black Panther), Issa Rae (Insecure), and Stephen Caple, Jr. (Creed II) among several other ABFF alumni," added Friday. "It's an exciting time to be Black and talented in the film and television space, as evidenced by the breadth of innovative and inspiring series from many of the networks, studios and streaming platforms here with us this week. It's thrilling to finally be here at this point in time."
To learn more about ABFF, visit www.abff.com