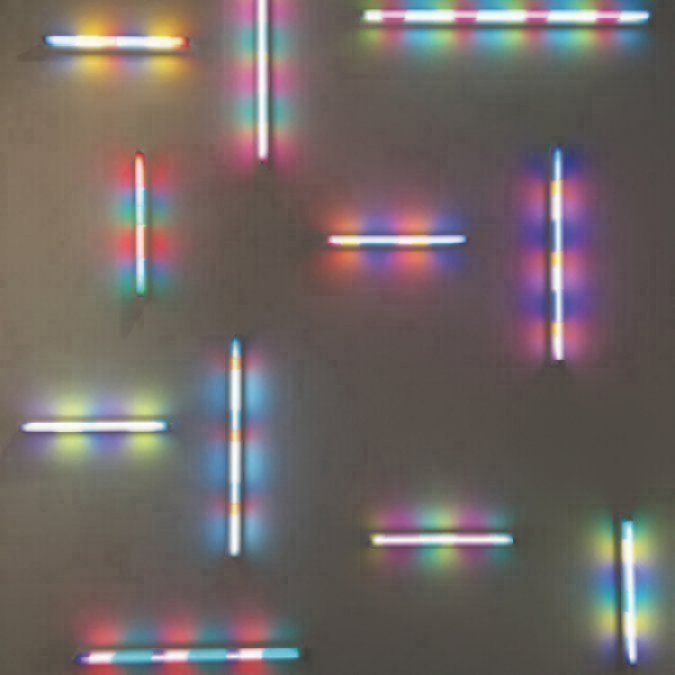 By Daisy Cabrera
During the course of four days, over 80,000 people attended the 18th edition of Art Basel Miami Beach at the newly renovated Miami Beach Convention Center. From Dec. 5-8, savvy collectors across more than 70 countries (the U.S., Latin America, Asia, Europe, Middle East, and Africa) as well as 200 representatives from museums and institutions were on hand for the highly regarded, revered and respected affair.
This year's fair brought together returning galleries who know this is the hottest art ticket in the nation, and welcomed first-time participants who witnessed the incredible event firsthand. About 270 leading exhibitors showcased a range of limitless works dating back to the early 20th century Modern art to the present day.
Sean Kelly, Founder of Sean Kelly Gallery in NY said, "We have participated in Art Basel in Miami Beach since day one, and the fair has always stood out to us as the preeminent platform in the United States for engaging with American and international museums…"
"This was our first year exhibiting as a solo gallery and the response has been incredibly positive. In addition to steady sales, we were able to introduce new collectors to our unique program. The platform that Art Basel Miami Beach gives us to elevate our artists is unmatched," stated Tina Kim of NY's Tina Kim Gallery.
THERE WAS SO MUCH MORE BUZZ BEYOND THE $120,000 EDIBLE BANANA DEUCT-TAPED TO A WALL aptly named 'Comedian, 2019' by artist Maurizio Cattelan.
We began the journey by exploring the newly introduced sector, Meridians – a massive 60,000 sq. ft. of open space in the Grand Ballroom featuring 34 large-scale new and historical projects by emerging and renowned artists. Much like the geographic lines of longitude running north-south, this area served to connect artistic dialogue between different viewpoints, expressions, mediums, and locales. Artists and works presented focused on the Americas, and varied from installations, sculptures and paintings to performances, film and video projections.
"Given the uniqueness of each project, Meridians articulates a very organic exchange of ideas and positions, unveiling conceptual overlaps, themes and interests that have emerged from this year's strong selection of projects," said Magalí Arriola, curator of Meridians and Director of Mexico City's Museo Tamayo.
Described as "seductive and repulsive," Portia Munson's emotive 'The Garden' presented by P.P.O.W. in NY, was an endless multi-media feast for the eyes. Created in 1996, it showcased a cluttered and confined woman's bedroom outfitted (we're talking every single inch of ceiling, wall, and floor) with floral dresses, stuffed animals, furniture, and artificial flowers in a myriad of vibrant hues: pinks, blues, purples, reds, yellows, greens, oranges and more. Born in MA, the visual artist focuses on cultural themes as they relate to feminism and the environment, and has created masterpiece installations, sculpture, prints, paintings, and public art.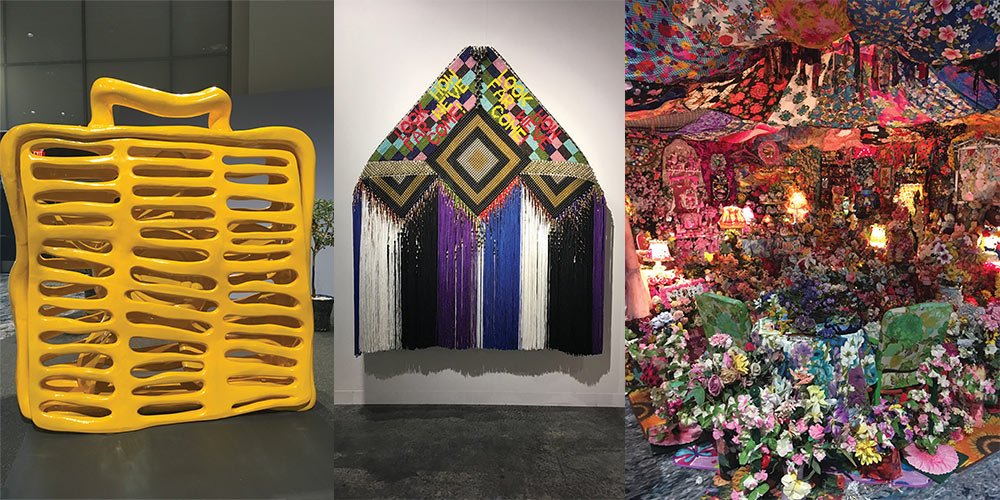 Woody De Othello's Cool Composition (left) Jeffrey Gibson's Look How Far We've Come! (center) Portia Munson's The Garden (right)
South Beach, NYC and the world over lost an amazing talent 25 years ago – Craig Coleman. A contemporary of Basquiat and Haring among others, he was a true artist in every aspect. The legendary persona (painter, camp TV show host, weekly columnist, performance superstar) created the iconic drag queen personality Varla. Naturally, we were thrilled to see the talented Pepe Mar pay an inspirational homage and bring his story to life with the 'Varla TV' exhibit. Presented by Miami Beach's very own David Castillo Gallery, the mixed-media installation fused Mar's dynamic creativity in manipulating, collaging and spotlighting Varla's work to create an exciting and elevated explosion of brand new art. The 40 ft. breadth of work included paintings, song lyrics, club flyers, posters and more. The Mexico-born, Miami-based Mar's work has been seen throughout the U.S., Europe, and Latin America.
Born in Miami to Haitian parents, Woody De Othello's 'Cool Composition' exhibit was larger-than-life, literally. A bright yellow box fan sculpture, modeled in clay and cast in bronze, sat in the middle of a living room. The powerful visual symbolizes the central role cool air plays in a family home – a welcome respite during a steamy South Florida day, and is was surrounded by typical citrus trees and ceramic stools. Jessica Silverman, Founder of Jessica Silverman Gallery in San Francisco remarked, "We've had our most successful Art Basel Miami Beach ever, selling 48 works in the first three days, including three large-scale bronze sculptures by Woody De Othello." The artist has shown in NYC, San Francisco, Los Angeles, Chicago, Rome, and other cities.
Within the colossal Meridian sector, where guided tours were offered in English and Spanish by ArtNexus, other significant artists included: John M. Armleder, Frank Bowling, Miguel Calderón, Wu Chi-Tsung, Jose Dávila, Sam Francis, Tom Friedman, Flavio Garciandía, Theaster Gates, General Idea, Tina Girouard, Samuel Levi Jones, Isaac Julien, Luciana Lamothe, Artur Lescher, Candice Lin, José Antonio Suárez Londoño, Allan McCollum, Ana Mendieta, Mario Merz, Richard Misrach, Manish Nai, Adam Pendleton, Laure Prouvost, Alexis Smith, Tercerunquinto, Torey Thornton, Barthélémy Toguo, Oscar Tuazon, Claude Viallat, and Fred Wilson.
Noah Horowitz, Art Basel's Director Americas added, "The inaugural edition of Meridians introduced unprecedented possibilities for our galleries and artists, and we were particularly pleased with the caliber of the works on display, which were very well received by our visitors from across the world who enjoyed the dynamic new sector."
Other sectors offered equally ambitious, thought-provoking and outstanding artworks that awaken the senses. Here are a few of our highlighted artists:
• Nova – each gallery presents between one-three talents, and their art created within the last three years. Among the stand-outs: Gareth Nyandoro at Tiwani Contemporary, Cinga Samson at blank projects, Paulo Vivacqua at Anita Schwartz Galeria de Arte, Cajsa von Zeipel at Company Gallery, and Amoako Boafo at Mariane Ibrahim Gallery. "We are thrilled to be presenting at Art Basel for the first time, marking a phenomenal moment for our artists and gallery program. The reception of Amoako Boafo's work in Miami has exceeded our expectations. Art Basel Miami Beach has been an unparalleled opportunity to connect with new global collectors and institutions…" said Mariane Ibrahim-Lenhardt, Founder of Mariane Ibrahim Gallery.
• Survey – historical creations from varied artists. Among the stand-outs: Katalin Ladik at acb, Faith Ringgold at Pippy Houldsworth Gallery, Juan Carlos Romero at waldengallery, Huang Rui at 10 Chancery Lane Gallery, Viola Frey at Parker Gallery, and Richard Bosman at Nicelle Beauchene Gallery.
• Kabinett – galleries present a carefully curated concept by an artist of their choice. Among the stand-outs: Purvis Young at Hirschl & Adler Modern, and Fernanda Gomes at Peter Freeman, Inc.
• Edition – Leading publishers showcase their collaborations with renowned artists. Among the stand-outs: Christopher Le Brun at Paragon, Mel Bochner at Two Palms, Ebony G. Patterson at Carolina Nitsch, and Patricia Treib at Crown Point Press. Valerie Wade, Director/Partner at Crown Point Press expressed, "…having the sector spread out throughout the fair for the second year has been a very positive experience for us. Collectors are drawn into our booth because of the works on view, rather than the fact that we are showing prints, which makes for a more equalizing experience. That has been really great."
• Positions – new single artists each presenting one major piece. Among the stand-outs: Kyle Dunn at Galerie Maria Bernheim, Tau Lewis at Cooper Cole, and Manal AlDowayan at Sabrina Amrani. Sabrina Amrani Gallery's Founder, Sabrina Amrani stated, "We are extremely happy with our second participation at Art Basel in Miami Beach, in its Positions sector this year, where we have presented female Saudi Arabian artist Manal AlDowayan to great acclaim of press, audience and collectors, having sold almost all works in the booth by the third day of the fair."
• Galleries – hundreds of Modern and contemporary art galleries display works by thousands of artists. Among the stand-outs: Leda Catunda at Fortes D'Aloia & Gabriel, Andrea Bowers at Andrew Kreps Gallery, Ugo Rondinone at Sadie Coles HQ, Jaume Plensa at Richard Gray Gallery, Joyce Kozloff at DC Moore Gallery, Derrick Adams at Rhona Hoffman Gallery, Leonardo Drew at Galerie Lelong & Co., Gabriel Kuri at Galleria Franco Noero, and Tunga at Bergamin & Gomide.
Chicago's Kavi Gupta gallery showcased Devan Shimoyama's 'Untitled' – a vivid, colorful piece set against a contrasting black wall. This was an exuberant festival of silk flowers, gorgeous beads, shiny rhinestones (and Bengal tigers as a focal point) set on fabric with a steel mount and framed. The PA-born artist's work often speaks to the black, queer culture and its truths and experiences. Also presented was Willie Cole's work, the subject of several one-person museum exhibitions across the country, which both challenges and stimulates. His contemplative piece, 'Spike' featured recycled high-heeled black and red shoes (some with spikes and studs) and wire. Gallery owner Kavi Gupta shared, "This has been our best Art Basel yet. Sales on the first day were more successful than entire runs of other fairs in terms of placing works in institutions and private collections."
We spent the day at Art Basel taking it all in, row after row after row, and here are a few more of our absolute favorites:
• Tom Friedman's 'Cocktail Party' of a lively and upbeat scenario of 26 life-size, distinctly dressed figures made of styrofoam and mixed media at Stephen Friedman Gallery
• Ron Terada's supersized 'You Have Left The American Sector' at Catriona Jeffries
• Zanele Muholi's dramatic portrait photography at Stevenson
• Spencer Finch's installation of 11 multi-colored fluorescent lights, fixtures and filters, 'Study for Times Square Boogie Woogie' at Galerie Nordenhake
• Doug Aitkin's sculpture called 'DRAMA' that is chromogenic transparency on acrylic in aluminum light box with LEDs at Galerie Eva Presenhuber
• Jeffrey Gibson's 'LOOK HOW FAR WE'VE COME!' sculpture at Sikkema Jenkins & Co. made of glass beads, tin jingles, copper cones, steel, nickel, and brass studs, nylon fringe, artificial sinew, and acrylic paint on wool blanket, mounted on canvas
Art Basel doesn't just present unique and fascinating art, it also presents unique and fascinating dialogue surrounding art. In its Conversations series programmed by author and private art dealer Edward Winkleman, twelve eye-opening panel discussions held in the West Lobby Auditorium covered a wide-ranging gamut of interesting and informative talks: artists meeting their influencers; post-Stonewall queer culture today and what's ahead; balancing museum fundraising and concerns about donations; contemporary ways of seeing photography; how to connect with young art collectors; and more.
"We were delighted to meet so many local collectors from Miami at this year's show. We noticed a particularly strong turnout, which demonstrates the impact of Art Basel on Miami Beach's growing art scene…" commented Rita Targui, Director of STPI in Singapore.
Whether you're a seasoned collector or an amateur art lover, Art Basel is the premium must-attend event exhibiting a wide range of art across all mediums: paintings, sculptures, installations, work on paper, photography, film, video, digital art, performances, and publications.
Mark Your Calendar
Dec 3-6, 2020
www.artbasel.com