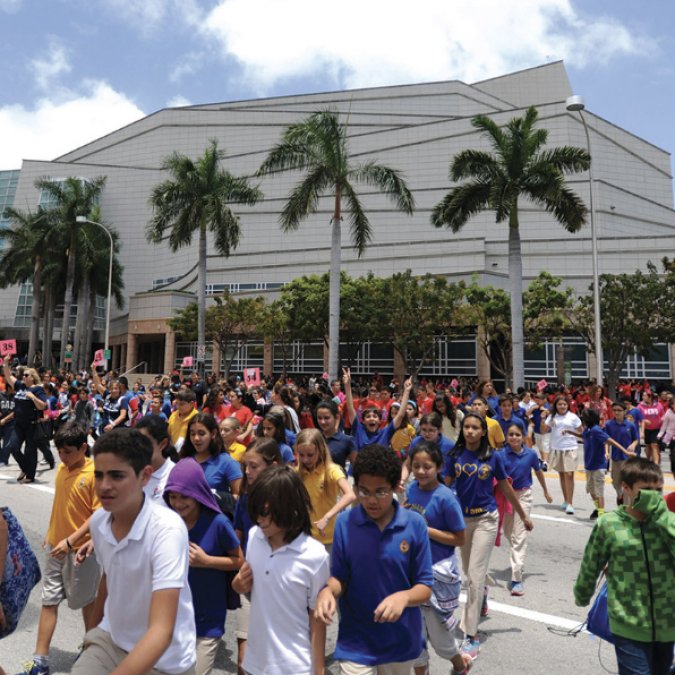 October 2-13
From October 2-13, 2017, all 26,000 Miami-Dade County Public School seventh-graders will be transported free of charge to the Arsht Center to attend the Broadway-style musical, Learning Through the Arts: Kitty Hawk, a live theater performance and Science, Technology, Engineering, Arts and Math (STEAM) learning initiative, created by the Center in partnership with Miami-Dade Public Schools. The production aims to educate a new generation about the Wright brothers' world-changing discovery of flight, spark creative thinking and equip middle school teachers to reach beyond traditional teaching methods to improve STEAM learning in M-DCPS classrooms.
Learning Through the Arts is the Arsht Center's flagship arts integration program, and uses live theatrical performances as a primary learning tool for traditional subjects, including music, mythology, history, geography, math and language arts. More than 100,000 Miami-Dade County Public School fifth-graders have already experienced the first installment of this free program, a live musical titled Rock Odyssey. Each year, the program invites 25,000 fifth-graders from across the country to participate.
The performance will be accompanied by a state standard-aligned curriculum created by a team of educators, artists and scientists from the Arsht Center, M-DCPS and Frost Science Museum.
The Center will host free teacher workshops to share the curriculum, and will also launch a web portal for teachers to exchange best STEAM practices and for students to explore STEAM activities.
The invention of the airplane by Orville and Wilbur Wright is one of the great testaments to American ingenuity. The original musical Kitty Hawk brings to life the creation of world-changing technology at the opening of an exciting new century. At the center of the story are two talented bicycle-shop owners from Ohio, whose inventive ideas and achievements transform them from small-town youngsters to international heroes.
Following the performance, a 12-week series of workshops targeting 100 students at under-performing middle schools throughout the county will occur after the show, and an innovation contest for students will be incorporated into the Miami-Dade STEAM Expo held every February to extend impact. The Teen TechMaker Workshop Series will specifically engage minority and female students, encouraging these students to consider STEAM classes and careers.
Recurring every fall, Kitty Hawk aims to improve STEAM instruction, increase and sustain youth engagement with STEAM, and better serve groups historically underrepresented in STEAM fields.
To learn more, visit www.arshtcenter.org or call 305.949.6722.