By: Daisy Cabrera
Mark Twain once said, "Too much of anything is bad, but too much good whiskey is barely enough." And, we couldn't agree more!
On March 7, the finest whiskies from across the globe poured during the 6th annual Miami Whisk(e)y Mash (MWM) – set in Coconut Grove's stunning Cruz Building. The packed house of attendees was equally packed with enticing spirits from Japan, India, Scotland, Wales, Ireland, Taiwan, South Africa and several states across the U.S.
Founder Frank Moreno said, "Whiskey is still the hottest spirit category in the world, and the Miami Whisk(e)y Mash is the perfect way to celebrate this beloved class of spirits. The craftsmanship, authenticity, and traditions that are associated with whiskey deserve their own focused event." It's no wonder that whiskey is known as 'the water of life.'
He explains the event, created for the curious novice or experienced aficionado, offers the exploration, education and enjoyment of whiskies. And, when Moreno launched MWM in 2015, whiskey was at unique spot in importance and hype in the spirits world. "That excitement has not diminished. We are in a larger venue to accommodate all the wonderful brands that want to be part of the MWM."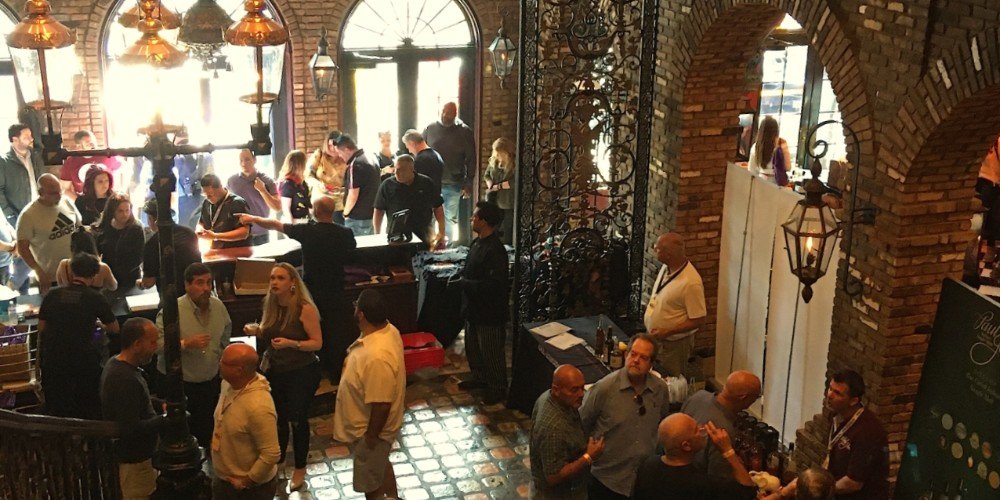 Guests learned about the important steps in making whiskey – malting, fermentation, distillation, and maturation. And, there was plenty of sipping and savoring top-notch brands leading the way.
From appearance and nose to taste and finish, here were some of our standout favorites:
Garrison Brothers' Bourbon Whiskies from Texas. The first and oldest legal whiskey distillery in the state. (Wood, caramel, vanilla, fruit, butterscotch, chocolate, nutmeg, leather, and coffee.)
Blackened American Whiskey from Vermont. A blend of straight whiskeys in collaboration with iconic distiller Dave Pickerell and rock legends Metallica – whose low frequency musical sound waves play through transponders strapped to black brandy casks and flavor enhance the whiskey. (Burnt caramel, cinnamon, clove, oak, apricot, butterscotch, honey, mint, and taffy.)
Rattlesnake Rosie's Maple Bourbon from New York. Artisan handcrafted with local pure grade A maple syrup and natural smoked bacon flavor. (Maple, apple, bacon, caramel, vanilla, tobacco, oak, and cinnamon.)
Iron Smoke's Casket Strength from New York. Unfiltered bourbon with no fillers. (Brown sugar, spice, herbs, molasses, cinnamon, caramel, toffee, and fruit.)
Redemption Rye Whiskey from Indiana. Made of 95% premium rye grain. (Spicy, oak, black pepper, citrus, anise, and mint.)
Rabbit Hole Heigold from Kentucky. Straight bourbon whiskey honoring Christian Heigold and made in small batches with German rye. (Butterscotch, lemon, pepper, toffee, mint, apricot, vanilla, and oak.)
Catoctin Creek Roundstone Rye from Virginia. Pre-Prohibition single-barrel style made with 100% local rye via solar power. (Oak, caramel, wood, toffee, butter, pepper, fruit, and wildflowers.)
High West Distillery Campfire from Utah. No flavor is added to this straight bourbon, straight rye and blended malt Scotch. (Butterscotch, tobacco, vanilla, smoke, jasmine, wood, leather, spice, cinnamon, fruit, and honey.)
Paul John Indian Whiskies from India. Single malt crafted from six-row barley grains and harvested in the summer. (Vanilla, orange blossom, mint, red berries, cinnamon, honey, smoke, and spice.)
Haig Club Clubman from Scotland. Single grain scotch co-created with sports superstar David Beckham. (Green apple, caramel, maple, lemon, coconut, butterscotch, toffee, mint, and cinnamon.)
Penderyn Distillery The Red Dragon Celt from Wales. Single malt whisky bearing the national flag of Wales. (Herbs, marmalade, apple, orange, vanilla, smoke, charcoal, and thyme.)
Ohishi Islay Cask Finish from Japan. Whisky distilled entirely from rice by family-run distillery near the Kuma River. (Pear, vanilla, fruit, butter, honey, taffy, menthol, and spice.)
Bonus: Better Days, a go-to bar in Brickell, presented "Birds of a Feather" by Kelvin Slush Co. that mixed Longbranch bourbon with passion fruit, guava and lemon juice.
The "who's who" in this wonderful world of whiskies also included: Barrell Craft, Bib & Tucker, Buchanan's, Bunnahabhain, Bushmills, Cast & Crew, Chickencock, Chivas Regal, Fighting 69th, Fistful of Bourbon, Four Roses, Glen Grant, Glenfiddich, Glenlivet, Heaven's Door, Horse Soldier, Jack Daniel's, Jameson, Jefferson's Ocean, Kilchoman, Masterson's, Michter's, Misunderstood, Proper Twelve, Redbreast, Russell's Reserve, Sexton, Smooth Ambler, St. George, Stranahan's, Tin Cup, Tipperary, Tullamore DEW, Whistlepig, Wild Turkey, Woodford Reserve, and Writer's Tears.
Whether served neat, on the rocks, or blended in creative craft cocktails – the diverse and dynamic assortment of whisk(e)y brands was truly impressive! Moreno shared, "We have built great relationships with brands (big and small) that value being part of the MWM. But, there are so many brands that no one show could truly include all of them. We do a great job of offering an amazing selection for our attendees, thanks to our exhibitors."
Complementing the tastings was the live jazz by the Damian J. Project filling the space, beer by Lincoln's Beard Brewing Co., light bites from International Smoke and plenty of cigars were on hand from Drew Estate Cigar Co. and The Cigar Shop of Bird Road. "You want to follow your whiskey preference with a nice cigar because cigars bring people together in fellowship – just like a great whiskey, scotch or bourbon does," said Jorge from The Cigar Shop of Bird Road. "We bring cigars to this event because it's a great collaboration of what guests like to drink and what they like to smoke."
Thankfully, MWM - considered Miami's largest event dedicated to whiskies - takes place smack in our backyard. Moreno added, "South Florida is an incredible market for spirits in general, and the whisk(e)y segment plays a major role. Our cultural makeup also reveres whisk(e)y highly for many different reasons." Cheers to that!
To learn more about MWM, visit miamiwhiskeymash.com.