Stick a Fork in It: Our Top 10 South Florida Steakhouse Picks
By: CultureOwl
|
08/23/2021
|
Culinary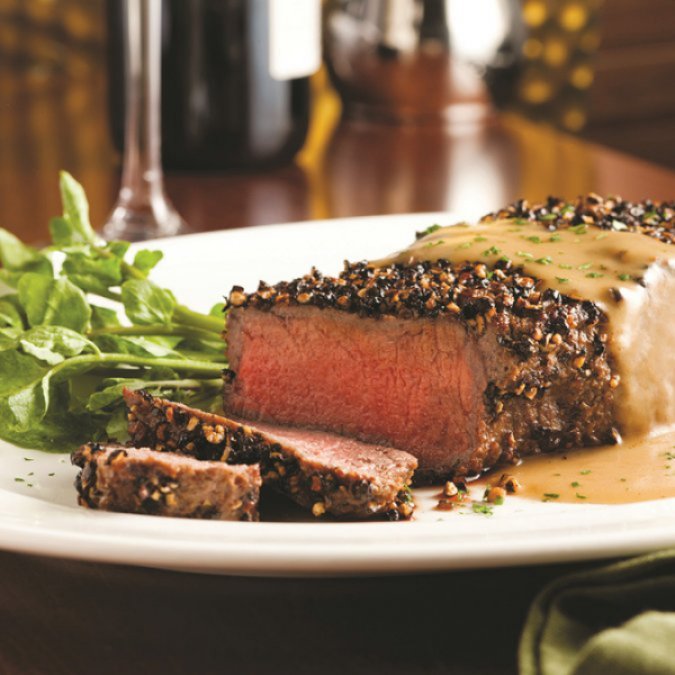 South Florida is home to a world of diverse culinary experiences, influenced by the ever-growing cultures represented in the community. Amid this sea of dining possibilities, Americana steakhouses are thriving, representing a synthesis of elegance and coziness, and elevating the restaurant experience to higher levels. But make no mistake. First and foremost, it's all about the quality of the meat. While the steak is the star of the show, inventive sides, superior service, and the perfect ambience all contribute to creating an outstanding dining experience.
The ABC's of Fine Meats
Before diving into the meat of the matter, a little overview of beef protocol is in order. Most people are familiar with the basics:
Filet mignon: Melt-in-your mouth tenderness
Ribeye: Extremely flavorful and juicy
Sirloin: Tender, but slightly chewy
Porterhouse: Best of both worlds
Ultimately, it comes down to the quality of the meat, which is determined by the USDA Beef Grading System.
The United States Department of Agriculture (USDA) meticulously evaluates the quality of beef using strict grading regulations, in order to protect consumers and provide a consistent benchmark among beef retailers and steakhouses. This system divides beef into 8 different classifications. Fine steakhouses serve only the top two: USDA Prime (all of the steakhouses on our top ten list) & USDA Choice. Both of these classifications contain greater levels of fat marbling within the lean muscle portions of younger steers, and are more juicy, tender, and flavorful than the other cuts, making them perfect for grilling.
By contrast, the Japanese have a much more specific system for grading meat, classifying it in four major categories, including Marbling, Color & Brightness, Firmness & Texture, and Quality of Fat. Unlike the USDA, Japan's system has 15 grades of quality, ranging from the lowest (C1), up to the maximum grade (A5), as in the extremely expensive Wagyu beef. To put things in perspective, USDA Prime beef, would only rate in the Japanese range of A1-A2, according to informal reports by vendors and chefs.
Aging - It's a Good Thing
Wet-Aged
Another very important factor that can make-or-break a steak, is how it's aged. Wet-aged beef involves vacuum-sealing cuts of beef in plastic, before they are shipped. This process relies on the meat's own enzymes to tenderize it. The end result is a soft, tender cut of beef.
Dry-Aged
Most high-end steak houses, however, serve dry-aged beef, which is hung in the open air at temperatures just above freezing for several weeks. During this period, the enzymes work on tenderizing the muscle tissue, while it is slowly dehydrating, resulting in a more intense and complex flavor. However, the moisture loss and cutting away of the outer molding that formed on the meat during the drying process equals less volume. Therefore, steakhouses pay a higher price per pound. This cost is transferred to consumers, but arguably worth it for extreme tenderness and enhanced flavor.
Where's the Beef?
So how did the following steakhouses make it to our top ten countdown?
We examined 4 major criteria:
Quality and flavor of the meat, including aging process, and specifically how skillfully it was cooked.
Level of service
Caliber of side dishes
Ambience
Our Top 10 Countdown:
Find out who made the cut
10 - JWB Prime Steak & Seafood
1111 N Ocean Drive
Hollywood
954.874.4462
www.jwbrestaurant.com
Part of the Margaritaville Hollywood Beach Resort Complex, this Key West style restaurant is all about the beach, with cozy, pastel colored chairs, comfy furnishings, and open kitchen concept. The beef is wet-aged for 28 days and was cooked and prepared to order so perfectly, there was no question it would make our top ten! The restaurant's named after James (Jimmy) William Buffet himself, and features the unique JWB Spear Fishing Program, which delivers fresh fish daily, while helping to protect the environment. Fresh sides like the Raw Bar & Sushi, coupled with attentive service make this a must-visit.
9 - The Forge Restaurant | Winebar
432 Forty First Street
Miami Beach
305.538.8533
www.theforge.com
The highlights of this iconic Miami Beach eatery include the 16 oz. dry-aged Prime NY Strip "Super Steak," as well as the Japanese A5 Wagyu. The décor is elegant, and features an incredible wine cellar stocked with some of the world's best wine selections. The Forge also offers The Enomatic Wine Bar, a system of machine stations that allow patrons to learn about, and enjoy, exceptional wines by the glass without damaging their integrity. With stellar cuts of beef and bites created by its first female Chef, Julia Doyne, and impeccable service, this restaurant rightly forged its way on to our list!
8 - Red, the Steakhouse
119 Washington Avenue
Miami Beach
305.534.3688
www.redthesteakhouse.com
This steakhouse scores a "10" on the Swank-o-meter, with its elegant and sexy vibe, accentuated by a glass-enclosed wine wall and red lighting. Even though Red has other locations in Ohio and Indianapolis, the Miami Beach location definitely felt like a fine, stand-alone steakhouse. Unlike many other steakhouses, the high-quality beef is offered both wet or dry-aged, the former for a minimum of 45 days, while the latter is aged 21 days wet and then 21 days dry. Executive Chef Peter Vauthy's philosophy is preparing all dishes from scratch and layering each with flavor, which was quite apparent with the delicious Shrimp DeJonghe with Dijon & Garlic sauce. Exemplary meat, and mood. No red marks here!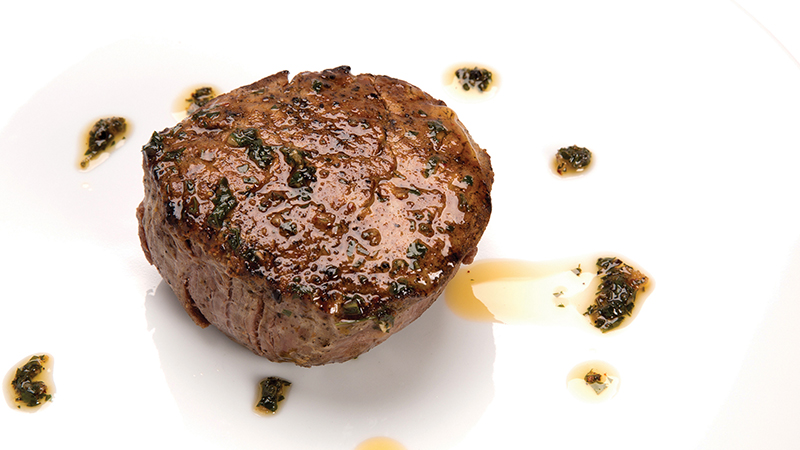 7 - Quality Meats
1501 Collins Avenue
Miami Beach
305.340.3333
www.qualitymeatsmiami.com
This Miami Beach steakhouse adds a distinct flavor to its New York City sibling, offering a unique fusion of industrial and stripped-down art deco décor, with raw edges, warm textural details, wood tables and chairs, and tree-filled planters in the center of the dining area, filled with a young and gorgeous crowd. The large cuts of beef are dry-aged for 28 days. Highlights include the Wagyu "Pastrami" Brisket (which melts in your mouth like "buttaaa" and is a definite MUST) and inventive sides, like the Corn Crème Brulee. A nice touch is the steak sauce, that's made tableside, adding to the intimate atmosphere. Expertly prepared meat, flavorful appetizers & sides, professional staff, and a unique look all add up to a return visit!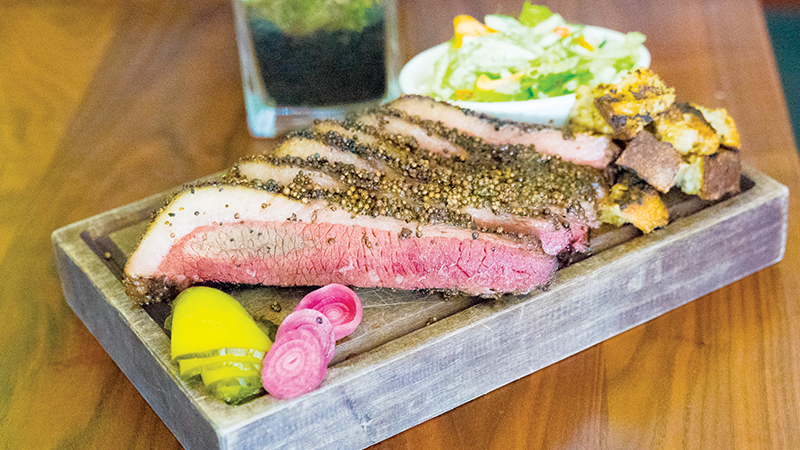 6 - Abe & Louie's
2200 Glades Road
Boca Raton
561.447.0024
www.abeandlouies.com
With locations in Boston and Boca Raton, this award-winning classic American steakhouse is known for the high quality of its skillfully prepared prime, dry-aged Midwestern steaks, which are all available skillet-blackened. Always packed, the restaurant has an ambience of sophistication and elegance, with gorgeous paintings and rich wood décor. Succulent steaks and an exciting, atmospheric, young professional vibe were the winning factors in placing this gem in our top ten!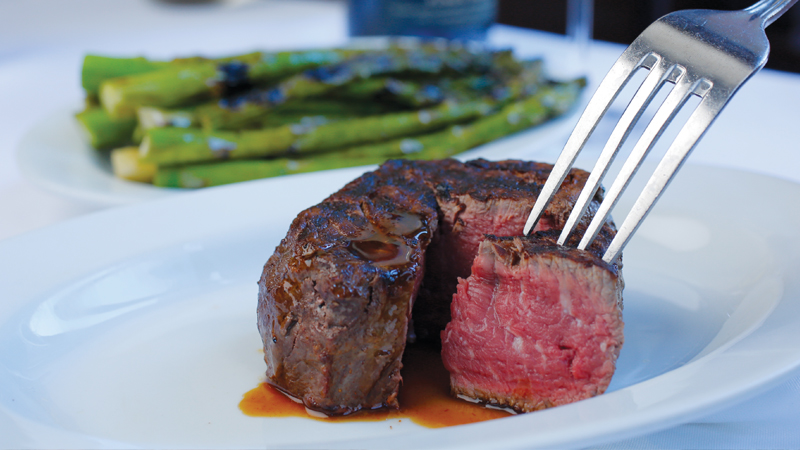 5 - The Palm
9650 East Bay Harbor Drive
Bay Harbor Islands
305.868.7256
www.thepalm.com/Miami
Embracing its Italian-American heritage, this steakhouse is noteworthy for its prime dry-aged steaks, which are hand-selected and aged for a minimum of 35 days. The emphasis here is on the prime cuts of perfectly cooked beef and the jumbo Nova Scotia lobster (3-5 lbs.) combo. This winning combination of superior food and service without the frills, coupled with Old World charm, will have patrons eating out of the palm of the restaurant's hands!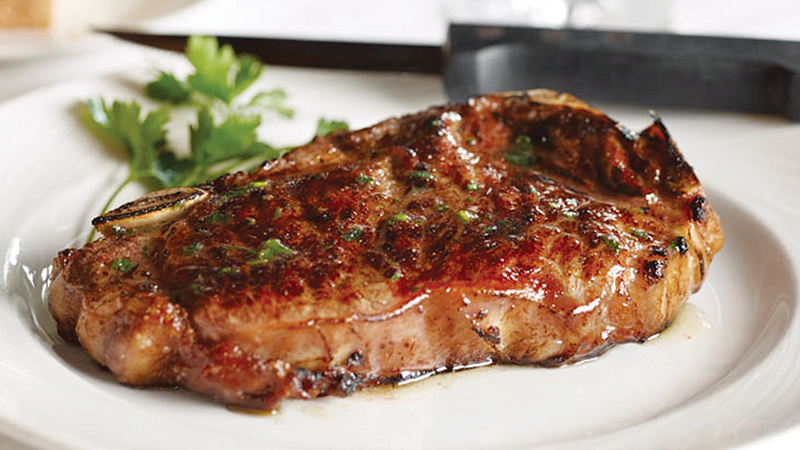 4 - Fleming's Prime Steakhouse & Wine Bar
2525 Ponce de Leon Boulevard
Coral Gables
305.569.7995
www.flemingssteakhouse.com
Home of the legendary 35 oz. Prime Tomahawk, this steakhouse offers beef both wet and dry-aged, broiled at 1,600 degrees or iron-crusted. Fleming's also offers an award-winning collection of 100 wines from across the globe, conveniently displayed on an iPad wine list. The setting is classic, but inviting, with several private dining areas. There's a good reason this steakhouse cut into our top four!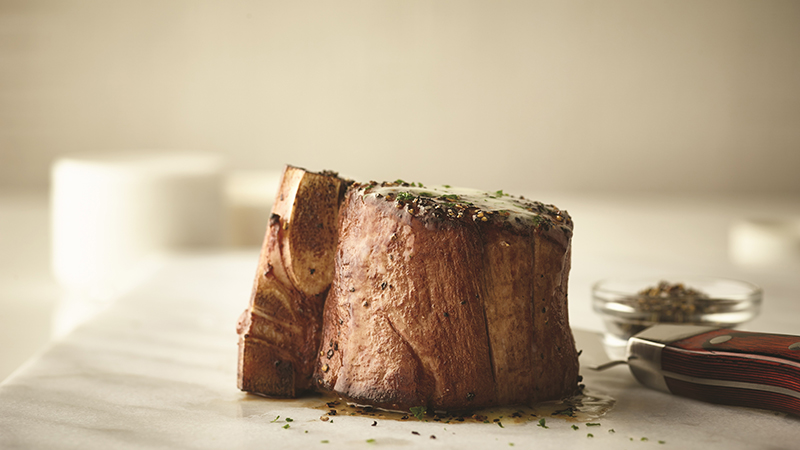 3 - Wolfgang's Steakhouse
315 South Biscayne Blvd.
Miami
305.487.7130
www.wolfgangssteakhouse.net/miami
The brainchild of Wolfgang Zweiner, this steakhouse derives its inspiration from New York City's nationally acclaimed Peter Luger's Steakhouse. The top cuts of beef are 28-day, dry-aged in-house, and expertly prepared, with the highlight being the sizzling Porterhouse steak. The atmosphere is trendy, yet tasteful, with Brazilian cherry wood floors and alabaster chandeliers. The restaurant boasts its own barbecue sauce. As far as sides, sometimes a sliced beefsteak tomato & onion side is all you need to accompany an exceptional steak! With expertly prepared steaks, satisfying sides, and a chic ambience, Wolfgang's rightfully deserves its spot in our top three!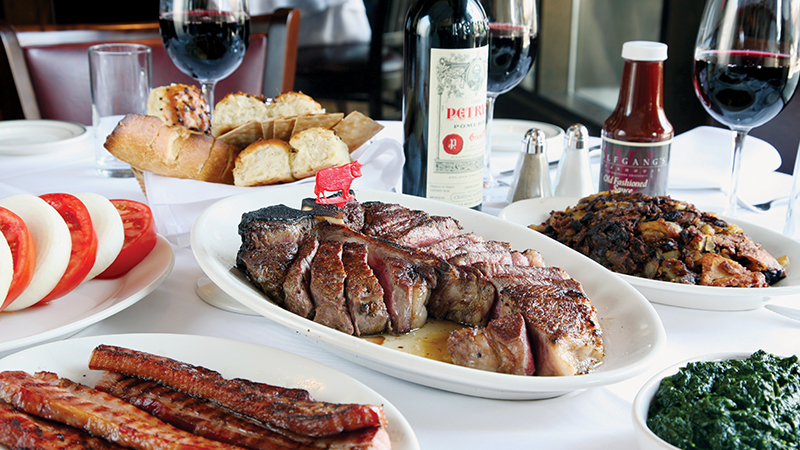 2 - Diplomat Prime
3555 South Ocean Drive
Hollywood
954.602.8331
www.diplomatprime.com
Recently remodeled, this steakhouse radiates elegance, sporting very opulent décor, high ceilings and huge windows. The beef is of the highest quality, and dry-aged on the premises for 48 days. Executive Chef, Nicolay Adinaguev's appetizers and sides, such as the Hamachi Crudo, Grilled Octopus and Roasted Mushrooms are inventive and quite exceptional, and the Roasted Bone Marrow is a real treat for the carnivore. Caution: The plates are piping hot, which is a staple for the type of service one expects to receive in a fine steakhouse. Hearty steaks, creative sides, and optimal service are definitely a ticket to our top two!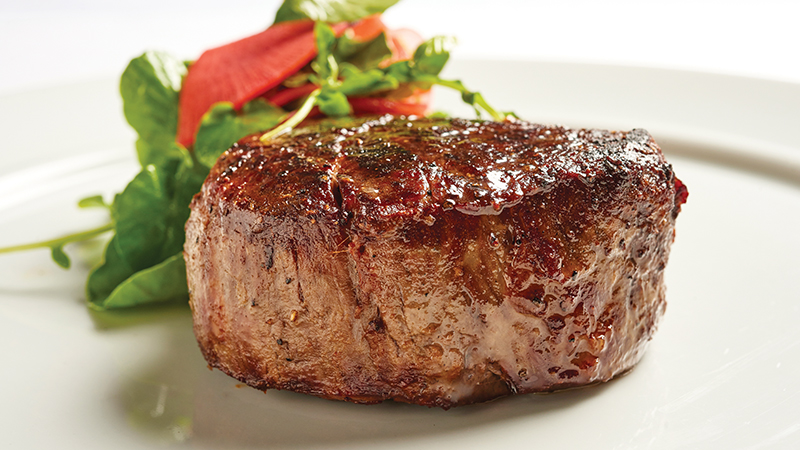 1 - Capital Grille
444 Brickell Avenue
Miami
305.374.4500
www.thecapitalgrille.com
Our number one selection meets and surpasses all of our ranking criteria, offering incomparable, dry-aged cuts of beef, fresh seafood, and a vast selection of over 350 international wines to choose from the innovative iPad menu. The ambience is classic, but not stuffy, conveying a sense of elegance that complements the high quality of the beef and other offerings. The wait staff was exceptional and knowledgeable, serving a perfectly cooked cut of beef tailor made to exact specifications. It's this stellar combination of beef quality, preparation, meticulous service and elegant atmosphere that exceeded all of our criteria that earns this steakhouse the prime number one top spot on our list!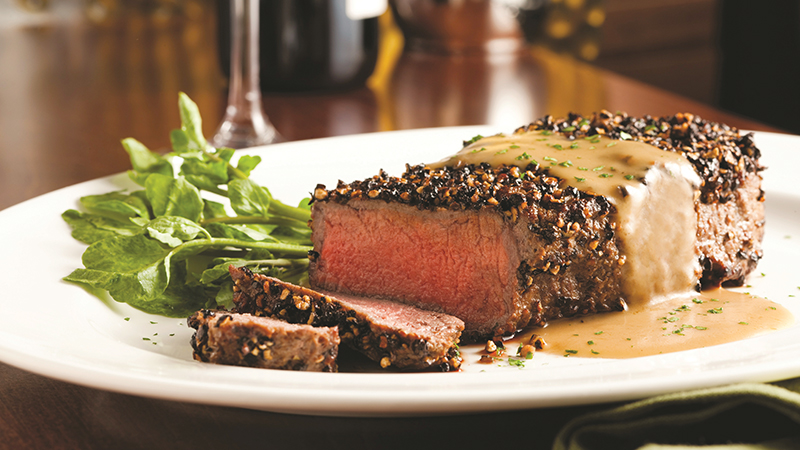 Every restaurant on this list is a prime example of raising the stakes for steakhouses. No matter which one you choose to visit, you won't have a beef with any of these selections. As a matter of fact, they each represent the perfect synthesis of high quality beef and ambience, coming together to form the ideal recipe for culinary bliss.