Tweet
Sophisticated Italian in an equally sophisticated ambiance
By Daisy Cabrera
If you're craving mouth-watering Italian (think antipasto, carpaccio, ravioli, minestrone…yum!) in an ultra-stylish and relaxed space, look no further that Olivia located in downtown Hollywood's CIRC Hotel.
The menu is truly inspired – traditional and modern, creative and diverse, expansive and impressive. Veteran restauranteur Piero Filpi (of Miami Beach's Mezzanote and Bal Harbor's Carpaccio fame!) expressed, "Olivia's cuisine is a fusion of past and present. There are some recipes that have been passed down through generations, and others that take a modern twist on classic recipes."
The open, spacious setting is light, airy and welcoming: super high ceilings, muted color hues, copper light fixtures, blonde wood floors, white marble walls, comfortable seating throughout, centered large bar as a focal point and floor-to-ceiling windows draped in breezy curtains. Executive Chef Michael Vitetta shares, "The décor is inspired by the Italian coastline and Downtown Hollywood's burgeoning, colorful art scene." Vitetta, a graduate of the Florida Culinary Institute, worked as a Banquet Chef at the Eau Palm Beach Resort & Spa and the Biltmore Hotel before joining the CIRC Hotel team. In addition, he has competed in several, local culinary competitions such as the Grid Iron Grill-Off, Ommegang Beer Pairing Challenge, and the SBWFF's "Swine & Wine" event.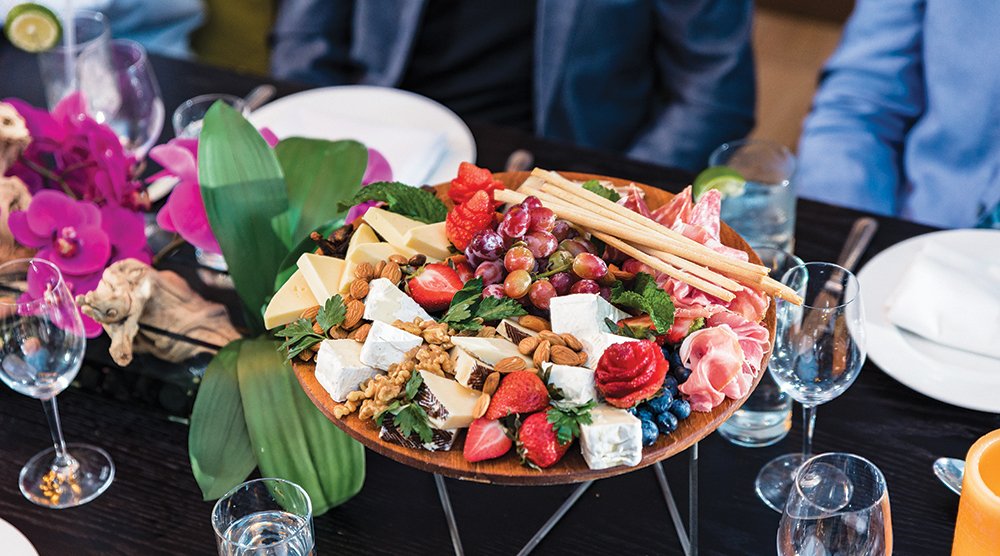 An abundance of Olivia's bountiful dishes offer something for everyone. We start with a glass of Prosecco and creamy burrata cheese – beautifully plated sights to behold and mouthfuls of soft goodness to be savored. "We serve our mozzarella warm because it's so fresh – straight from the kitchen – and it's tradition! This also ensures the best flavor profile, so guests can taste the most authentic version of this dish," said Vitetta. Hand-rolled right before your eyes in an open concept kitchen, the mozzarella is paired with aged prosciutto, roasted and marinated vegetables, Scottish smoked salmon or paper-thin cured bresaola beef slices. "Our mozzarella bar is an example of how new Italian cuisine has become a popular choice among our diners and yet they can rely on also being able to order classic favorites," he added. We also devoured the savory meatballs – American grass fed beef and pork mixed with sharp parmigiano and pecorino and topped with ricotta. Other great starters we recommend are fried rings of calamari and zucchini, mussels swimming in white wine sauce, and the beloved lentil soup.
Calling all pasta lovers! The flavorful pappardelle pasta paired with a generous heaping of seasoned and tender short rib ragu (braised for six hours) is divine. Naturally, we begged for the recipe to which Filpi responded, "Ah, this recipe is a family secret! But I can say that we make all our dishes from scratch – including our sauces. Passion for cooking is always the answer." Now the rich spaghetti bolognese, overflowing with homemade meat and pork sauce while topped with parmigiano cheese, will simply blow your mind. Pair both with a fine Chianti.
Other delicious plates at your beckoning: capellini pomodoro's angel hair pasta tossed in marinara sauce, linguine vongole pasta with fresh clams, tortellini papalina stuffed with veal and beef, and the time-honored fettucini alfredo in a delicate butter crème sauce. As a pasta alternative, try the memorable risotto frutti di mare boasting a fragrant plentitude of scallops, clams, shrimp, mussels and calamari.
Leave room for dessert because Olivia has plenty of sweet options waiting for you! The decadent molten lava chocolate cake, with its warm liquid center oozing over ice cream, is an extravagance. A layered, moist tiramisu cake offers the perfect balance of expresso meets mascarpone. And, please don't miss the insanely scrumptious pistachio tartufo. Be still our hearts!
Olivia Restaurant & Bar at CIRC Hotel
1780 Polk St, Hollywood, FL 33020
www.oliviarestaurantandbar.com
Photo courtesy of Olivia Restaurant & Bar