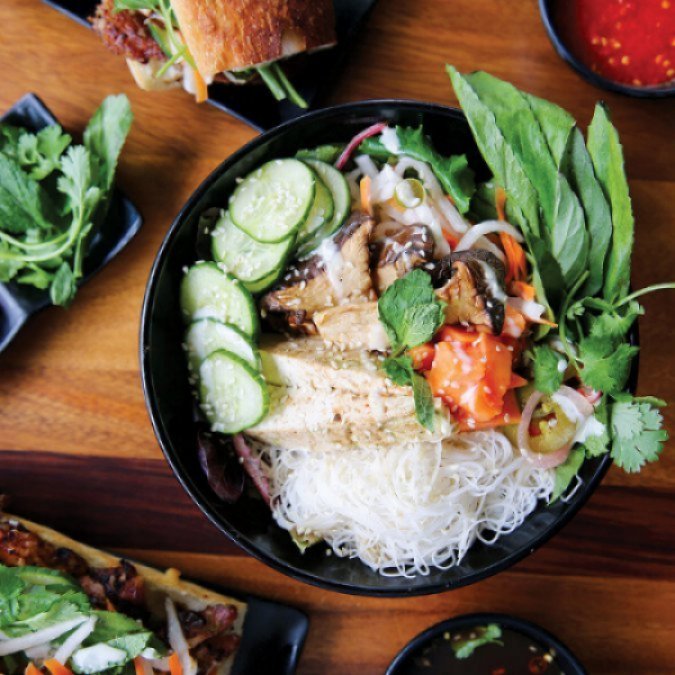 By Daisy Cabrera


Foodies rejoice! From sweet, savory, and salty eats to saturated, succulent and spicy dishes – Miami is a bon viveur playground of gastronomy. With the smorgasbord of food halls popping up, it's quite easy to stuff yourself with whatever you fancy.
First thing's first – let's explore the massive 40,000 square foot Italian food haven known as La Centrale. No passport needed to tour its three levels, 14 different restaurants and eateries. This is home to handpicked gems spanning food and wine regions (Sardinia, Tuscany, Sicily, Piedmont, Veneto, Puglia, etc.) Ciao bella!
The ground floor is an Italian piazza with grab-and-go street food stations, and an outdoor terrace to bask in the warm sun. Roticceria has paninis and mini calzones waiting for you. At Focacceria, enjoy minestrone with a piadina classica. Insalate is salads galore, and add truffle cream, and crispy pancetta to those greens!
The Expresso bar offers much more than macchiatos; such as smoothies, fresh-squeezed juices, and Frappé Verde with Tuscan kale and almond milk. Indulge in Pronto's costine polenta and Italian olives. And, don't miss the bar for an authentic Negroni, or a sip of Limoncello.
Salumi e Formaggi is all about charcuterie and cheese. Yes, please! Buy things you may not be able to pronounce, but you'll want to bite into: salame schiacciato piccante, coppa stagionata, and more. Before taking all these yumminess home, stop by Pastificio for homemade pasta, pesto, and Bolognese sauce.
If you prefer to sit down for your meal, choose from two casual dining experiences. Pizza e Pasta (family-style) boasts authentic wood-fired ovens, and a delectable menu. Think ravioli, bolognese, cacio e pepe, and lasagna. Mamma mia! Pizza toppings are just as abundant: from black truffle, and prosciutto di Parma, to scamorza, and mascarpone. Even a regional pizza makes a monthly guest appearance. Enjoy a cold Italian beer or glass of Montepulciano d'Abruzzo, and finish it all off with a cannoli. Perfection, indeed! Use their concierge mobile app to buy the ingredients you've just devoured.
Now the Sicilian-inspired, contemporary Caffè goes beyond the expected (but exquisite) expresso. This intimate, sun-drenched hostería, with its beautifully painted wall mural and equally as beautiful all-day weekend brunches, is a sheer delight. Dishes include antipasti, osso buco, Tuscan sausages, spaghetti carbonara, ricotta cheesecake, etc. Decisions, decisions.
Onto the second level with just as much to eat. The focal point is the Aperitivo bar - a gorgeous octagon-shaped full bar surrounded by olive trees. They serve up wines by the glass or bottle, classic drinks (freddos and martinis), and campari, aperol, and montenegro on the rocks. Snack on crostini with Sicilian anchovies, bruschetta, Italian cheeses and meats, etc. Happy hour: 4pm-7pm weekdays, with unlimited Negronis for two hours to boot. Bellissimo!
Venchi is heaven on earth, a gourmet Piedmont spot to treat yourself to gelato and chocolate, crêpes, and expresso drinks. Top off that gelato with hazelnuts, or dip it in the chocolate fountain.
Set in a rustic ambiance with a terracotta-tiled ceiling, Carne is a next level Italian butcher shop. If you're a meat lover, this one's for you! Cuts of meat are cooked in a wood-fired grill. Australian Wagyu, 48-day dry aged rib eye, beef porterhouse, and Berkshire pork Tomahawk pairs well with reds to wash it all down. Is your mouth watering yet?
On the flip side, come close healthy food addicts. Gobble up seasonal garden greens, root veggies, and hand-pulled mozzarella at the plant-based Stagionale. The elevated Veneto-inspired menu has fingerling potatoes, risotto, Italian crudités, Piedmontese black rice, and the list goes on.
Then there's the luminous Pesce offering coastal seafood for days. (You can also take home the fresh seafood displayed in the crudo bar.) This is where you enjoy Italian Riviera-esque recipes alla Liguria-style. We started with flawless ahi tuna carpaccio, and bubbly bollicine. Next up - flavorful ravioli generously stuffed with lobster. This masterpiece of a meal was a whole, grilled Branzino paired with Nero d'Avola. Alas, the finale: Wild Sardinia Mirto liqueur and tiramisu. Order this ASAP, and thank us later!
As you can see, La Centrale takes its food and wine seriously. The top floor entertains a state-of-the-art kitchen, and hands-on education where adults and kids alike flex their culinary creativity with expert chefs.
What could possibly be better than Italian food, you ask? Well, the wine of course! This level is also home to a premiere wine cellar, and a wine bar serving up octopus and meatballs. Visit the curated wine shop, and if you're not sure what to purchase, the seasoned sommelier Pietro Luca Bordignon will graciously make recommendations. Cheers to that!
The best part of it all? La Centrale's motto is "we cook what we sell and we sell what we cook!" With retail stands peppered throughout each floor, take home iconic specialties such as marmalades, limonata, pistachio crème, amaretti biscuits, coffee, cured meats, and more – including La Centrale's own olive oil.
La Centrale isn't a tribute to Italy, it's a love letter. La Centrale, Brickell City Centre, 601 South Miami Ave, Miami FL. Visit lacentralemiami.com.
1-800-LUCKY
Chomp, chomp! Get those chopsticks ready as we head over to Wynwood's hipster hangout, 1-800-LUCKY. The team behind the popular COYO TACO has created this Asian food hall of seven food vendors dishing out grub from the Far East.
Upon entering, you're met with Lotus + Cleaver's delightful whiff of fire-roasted yumminess. OMG. Displayed in the window are glistening Peking ducks, hanging on hooks and calling your name. The Peking duck buns (with sweet apple bean paste) are recommended, as are the honey-glazed Char Siu BBQ pork ribs partnered with fragrant fried rice. Talk about Instagrammable.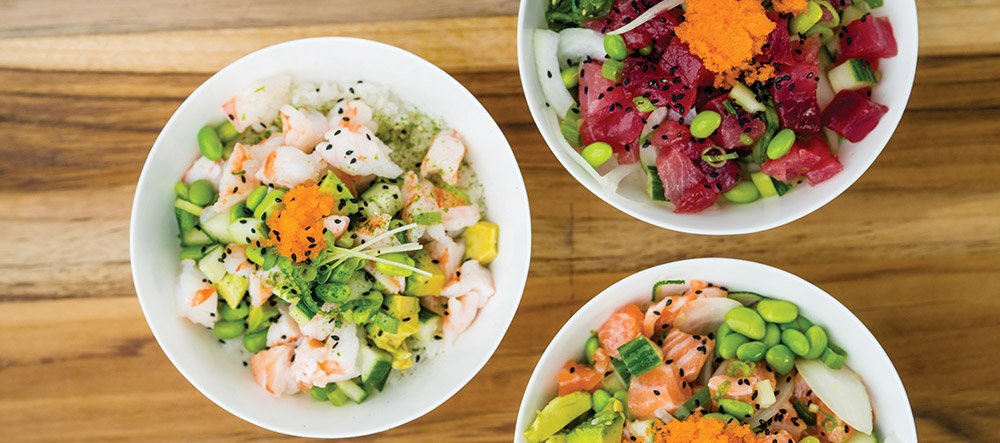 Calling all sushi lovers! Head over to Myumi for the handrolls where the catch of the day dictates the menu. Select the "Chef's choice", golden eye snapper, blue fish tuna, hamachi, or the well-known Toro handroll (with fatty tuna and pickled radish), and have a brown rice tea drink as well. Drooling…
Les Banh Amis is touted as Miami's first Vietnamese deli, showing off its luscious Banh Mi sandwiches (toasted Sullivan Street Bakery bread) and Banh Mi bowls (mixture of rice vermicelli). The meal is stuffed with pickled daikon, fresh herbs, homemade hoisin sauce, and more. Just throw in scrumptious BBQ pork belly, Vietnamese duck sausage, or caramel glazed short rib, and call it a day.
Hayato Miami brings the elegance of traditional Japanese ramen. You'll fall head over heels with the broth and textured noodles. The must-have dish here is named Shiro Shoyu – wavy, thin noodles coupled with melt in your mouth Chashu pork and chicken, Nori seaweed, and imported Shiro Shoyu (white soy sauce – just like the kind served to Japanese royalty). Happy belly!
Everyone is wild about seafood poke, and Poke OG from Cali does not disappoint. Make this your pit stop. Create your meal with endless options: zucchini noodles, tofu, Japanese yellowtail, Ginger Shoyu and Yuzu Kosho sauces, edamame, wasabi, masago… see what we mean? A crowd pleaser is the Rainbow OG: ahi, salmon, hamachi, bubu arare, and other good stuff tossed in dynamite aioli.
In the mood for some old school, handcrafted dim sum? YIP is your stall. The Chinese word "dim sum" translates "to touch your heart," and here the hype is real. Welcome a small plate explosion of rare deliciousness. The Siu Mai (shrimp and pork dumplings) are superior. Get your fix of Cha Siu Bao (handmade buns filled with kitchen-roasted pork), or if you're feeling adventurous – the Soft Shell Crab Bao (crispy crab, cucumber and sriracha blend placed inside steamed lotus leaf buns). End with a happy ending - chewy sesame balls filled with red bean paste, and Boba milky tea with tapioca pearls. Swoon!
Last, but not least, don't miss out on the famous big-mouthed, fish-shaped cones everyone is raving about – Taiyaki. The ever-so magical Unicorn Taiyaki, made with any ice cream flavor, is decorated with unicorn sprinkles, ears, and horn. How fun! Another signature fav is the Straight Outta Japan: matcha black sesame ice cream, wafer stick, and a colorful mochi stick. Japanese red bean waffle cones filled with artisanal soft serve ice cream, what's not to love?
Expect high energy at 1-800-LUCKY: an indoors wrapped in iron and concrete with a super cool warehouse feel, and an outdoors to dance to the tunes of top DJs and live bands. A full bar runs throughout, with plenty of libations: Japanese whiskey and beer, Chinese beer, rice beer, sake, etc. The onsite convenience store sells assorted Japanese candy, but if you're a music aficionado, then check out LUCKY Records' vintage vinyl and new releases.
They say variety is the spice of life. With this Asian food mecca, truer words were never spoken. 1-800-LUCKY, 143 NW 23rd Street, Miami FL. Follow them on Instagram/Facebook at @1800LUCKY.
Jackson Hall
If you're looking for all things healthy – robust food that awakens the taste buds - look no further. Enter Jackson Hall. Simply put, it's a 10,000 square foot space of goodness.
Set in the Civica Center in the Jackson Medical District, Jackson Hall welcomes the public, healthcare staff, patients, and visitors. There were very limited food offerings for the thousands of people working or visiting this area daily until Jackson Hall opened its doors.
"There are two separate emotional ranges we experience at hospitals - either grief and mourning or elation. There's not really a space to experience either of those emotional extremes in a warm, comforting environment in most U.S. hospitals. Now there will be," said co-founder Della Heiman. "And, we're thrilled to offer an innovative food hall devoted to making healthy, delicious food more affordable and accessible to the doctors, nurses and hospital staff in a warm and welcoming space."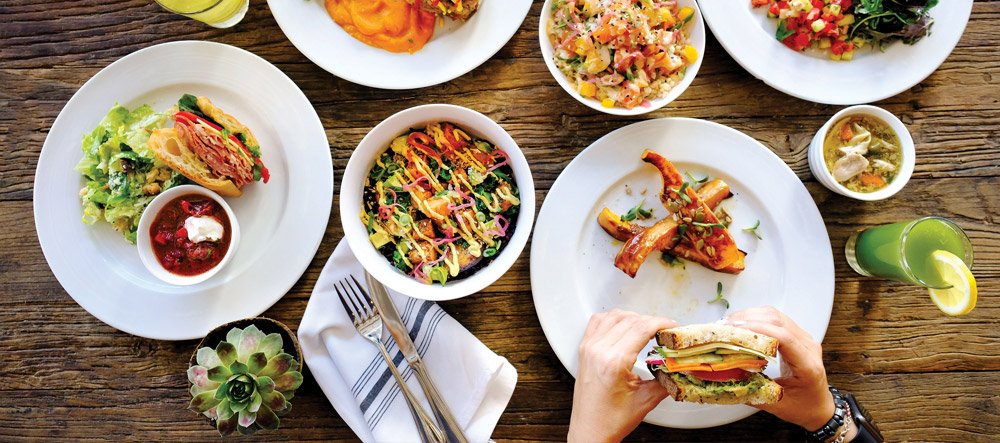 The team behind the successful Wynwood Yard shifted gears to launch the very first wellness-focused culinary concept of its kind in a public health space. With its bright colors, whimsical décor, Edison bulbs, tin ceiling, and art-lined walls, this chic communal space is a breath of fresh air.
Three easy steps: place your order on a touch screen, receive text to pick up your food, EAT. You can dine-in, take your meal to-go, or have meals delivered. And, there are vibrant vegan, and vegetarian choices to munch on. Time to nourish the body and nourish the soul. Ahhh!
One of the five kiosks is dellabowls, Heiman's baby. These plant-based bowls host a series of ingredients at your choosing: greens, quinoa, tempeh, citrus tahini sauce, walnut herb pesto, etc. Folks rave about the Caribbean Bowl, an outrageous mix of black coconut rice, chipotle adashah, sweet plantains, marinated kale, avocado, toasted coconut, and yellow sauce. The Dalé Bowl is to die for - layers of brown rice, refried black beans, nutty cashew queso, pico de gallo, chipotle adashah, crunchy pepitas, avocado, and salsa verde. Make this your pit stop.
All hail to CHARCOAL. This concept, created by Ken Lyon, deserves to be worshipped! With the power of a Spanish Josper charcoal-fire rotisserie, they serve up incredible comfort food. We gorged on Tuscan-style, herb-marinated chicken (pasture-raised, hormone and antibiotic free), with a playground of sides: a generous sized cornbread, roasted potatoes cooked with chicken drippings, and creamy root vegetable puree. Delish!
Levante is what decadent dreams are made of. This is a food hub of richly-spiced Middle Eastern flavor – enticing shawarma, carrot-tahini, kabobs, harissa, tzatziki, mezze and more. We recommend the lip-smacking za'atar black pepper ground lamb kebab plated with lamb koobideh, garden greens, roasted cauliflower, hummus, feta-mint spread, and Israeli salad. Whew!
Thankfully, poke has a home here too. Little Island's bounty of options, seasoned in sesame oil and soy, include tuna, salmon, mushrooms, brown rice, and kale/arugula mix. The Spicy Tuna Bowl is a sure shot: spicy raw tuna made with cucumber, avocado, creamy sriracha, jalapeno, mango, green onion, furikake, and toasted cashews. Or, be daring and build your own!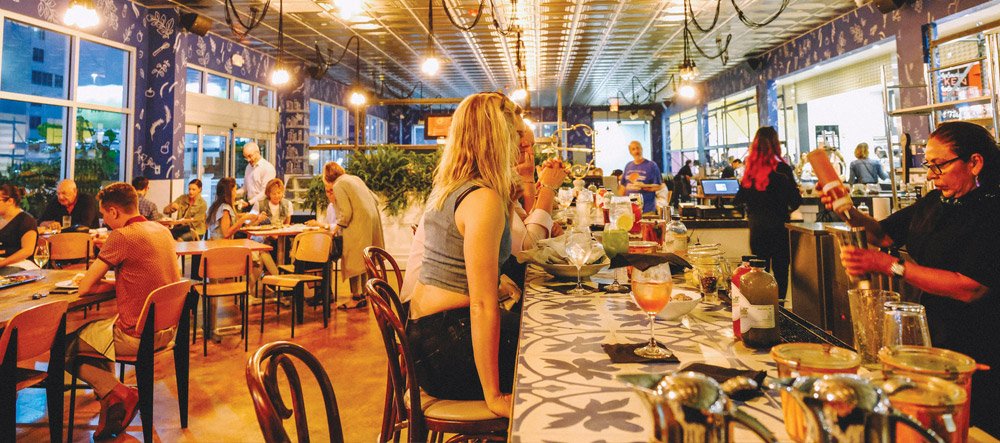 Who doesn't love a good ole deli? Leo & Bloom Delicatessen is a beautiful thing: hot beef borsht, potato parsnip pancakes, and some knock-outs: Mom's chicken noodle homestyle soup and Mister Lyon's curried chicken salad sandwich on Sullivan Street bakery wheat Pullman bread.
The crown jewel of the Jackson Hall space is The Radiate Apothecary + Bar, the genius of Susan Duprey – certified nutritionist, former bartender, and founder of the well-known Radiate Miami. Saddle up to this full bar for more than spirits, beer and wine. Enjoy expressos, elixirs, fresh juices, smoothies, tonics, etc. Delight in a splendid Radiate Penicillin (whiskey, lemon and ginger juice, and bee pollen), and Nuevo Cubano (rum meets prosecco). Brilliant! Or, experiment with intricate cocktails fancied after food vendors steps away.
Stroll through the hangout space where they host yoga and meditation classes (and more!) to discover the Positivity Library. This collaboration with Books & Books has a "swap section" to donate or exchange books, and they have something for everyone no matter what age.
On the other side of the wall is the Petit Marché market with its wonderful grab-and-go items like the probiotic Mermaid Majok – fermented kombucha made with ginger and blue green algae – and other unique products made in-house or by local artisans. And, enjoy a seat in the outdoor sunny area with adorable potted herbs.
Taste Jackson Hall's passion for wholesome dishes, and their many food options under one roof, all in the name of good food. Jackson Hall, Civica Center (2nd Floor), 1050 NW 14th Street, Miami, FL
Visit jacksonhallmiami.com.
If you still haven't had your fill of Miami's food hall invasion, visit St. Roch Market, Casa Tua, The Wharf, Wynwood Yard, and set to open later this year - Lincoln Eatery, and The Citadel.