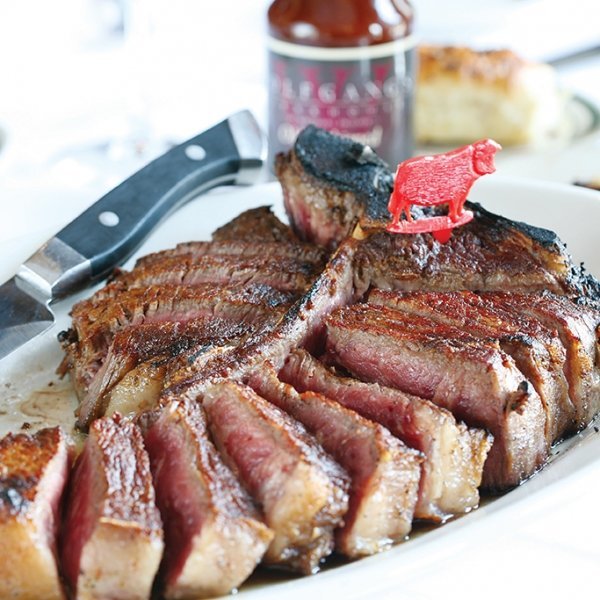 About Wolfgang's Steakhouse
Stepping inside Wolfgang's Steakhouse, we immediately soaked in the mouthwatering aroma of perfectly marinated and sizzling Porterhouse, the intimate ambience of the Brazilian cherry wood floors and elegance of the alabaster chandeliers. There are three levels of seating consisting of chocolate-hued distressed leather booths and low-top tables, as well as lofted private rooms overlooking the dining room. Even though there are waterfront views from any seat in the house throughout the comfortably elegant atmosphere, we couldn't resist dining outdoors on such a lovely evening, and were seated on the terrace, giving us a breathtaking view of Biscayne Bay and the lush palm tree landscape. It really felt like a tropical paradise.
From the get-go, our waiter, Mat, won us over, sharing his expert knowledge of the menu and providing fabulous service. You should definitely ask for him when you visit! Since it was all about the perfectly aged meat (it's dry-aged onsite for an average of 28 days in the restaurant's own aging box), we even requested a tour of the meat locker, filled with huge slabs of meat! You'll also want to bring a wine buddy with you so you can share a bottle (or two) of their vast selection to kick things off, rather than ordering from their short list of wines by the glass. Our appetites worked up, we sat back and prepared for quite the meat lover's feast!
Our Dining Experience
One of the many great things about dining at Wolfgang's is the way the appetizers and seafood platters match the levels of decadent indulgence of the steak experience.
If you like your shrimp collosal, your crab meat lumpy and juicy, and your lobster fresh, you will love the Seafood Platter. We sure did! We also tried the Sizzling Canadian Bacon, which was extra thick. Make sure to have it with tomato and onions, and the specialty sauce. This combo is a must-try. It will melt in your mouth. And if it stops your heart, you will definitely die a happy camper!
After devouring the appetizers, it was time for the pièce de résistance: Meat, baby! We loved that the steaks were served on very hot plates, which would have been a deal breaker otherwise. We also ordered our meat Pittsburgh, yet medium rare, and they nailed the temperature. Oh. My. God. Tender and juicy doesn't even begin to describe our experience. We had the coveted Porterhouse and the Ribeye for two, which included cuts of the filet mignon and NY sirloin. All of them were perfectly seasoned, and when combined with the creamed spinach and German potatoes, it was a slice of heaven (actually many slices)! The quality of the steaks definitely gives Peter Luger's a run for the money, and it's great we can have a comparable experience right here in Miami. And unlike many other specialty steakhouses we've tried, Wolfgang's is a steal at $47 per person (plus moderately priced sides). After our exquisitely carnivorous frenzy (That's Wolfgang-speak for "stuffing ourselves"), we topped things off with the quintessential Pecan Pie a la mode. Every bite was nirvana, with just the right amount of sweet, nutty goodness.
All in all, our Wolfgang's Steakhouse experience receives our coveted "Two Forks Up" seal of approval! Make your reservations ASAP!
315 S. Biscayne Blvd. Miami, FL 33131
305.487.7130