By Daisy Cabrera
Art enthusiasts know that the 35-year-old Pérez Art Museum Miami (PAMM) is a leading go-to museum presenting contemporary artists from across the globe. But, those "in the know" pair every visit to the modern museum with a visit to Verde. After taking in all the amazing art, get ready for an amazing meal.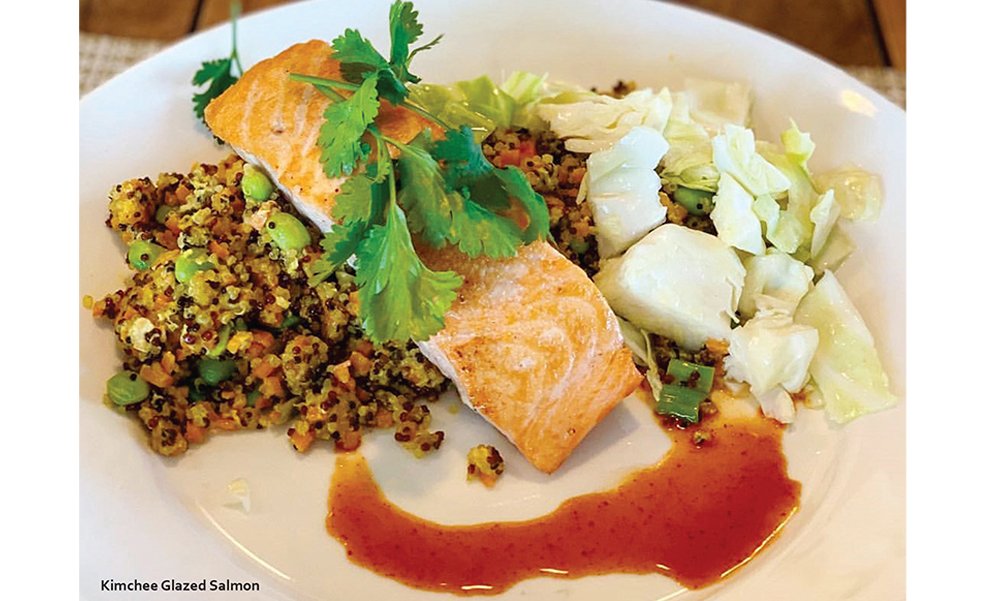 Sit indoors, or enjoy the gorgeous nature-inspired veranda to relish lush, shaded surroundings: sub-tropical hanging gardens, hypnotic blue waters, glorious clear skies, and a warm breeze brushing your skin. Ahhh! The gigantic deck, located on the east terrace, offers a leisurely experience for everyone to take pleasure in - from kids playing and folks relaxing on lounge chairs, to teens enjoying the swings and couples taking selfies on the steps.
The best part? The vibrant views complement the vibrant eats. Verde's menu is bursting with a mouth-watering culinary variety of locally inspired New American dishes, including family-friendly plates.
"Kaytlin Dangaran, Executive Chef of Museum Park, draws the majority of her inspiration for the menu from the changing of the seasons. Whatever ingredients are most fresh or in season really come to the forefront when composing new dishes," said John Dangaran, Verde's Restaurant Manager. "From there, it's all about taking those ingredients and using traditional methods to create new and exciting cuisine that people will love."

Start with the peach-colored spring Sangria – oh-so refreshing, semi-sweet with beautifully balanced notes and generous pieces of orange. Or, treat yourself to the fall Sangria (which is just as delightful!) offering a fragrant harmony of velvety flavors.
With plenty of wine and beer at your beckon, perhaps you'll fancy a handcrafted specialty cocktail? Cheers! We recommend the Marmalade Old Fashioned (Kentucky straight bourbon whiskey meets cinnamon and orange marmalade with a touch of bitters) and the Verde Spicy Margarita (spicy poblano and ancho liqueur coupled with agave and lime). Bonus: Don't miss their Thursday night happy hour from 5pm-8pm.
Verde's casual yet creative cuisine offers an array of choices, and the PAMM exhibits play a role in curating the menu.
"With each special exhibition, we offer a special tasting menu inspired by the artist and their work. This can be illustrated is a variety of ways: maybe by trying to mirror ingredients to the artist's medium of choice, or even taking items from the artist's place of origin and trying to come up with something unique that they would be proud of," shared Dangaran. "For example, Chef Dangaran created a Snapper Tiradito with Hibiscus Ponzu for the most recent Christo and Jeanne-Claude: Surrounded Islands exhibit which encapsulated in a single dish the wrapping of the small islands of Biscayne Bay from 1980-83. The museum's next special exhibit will be focusing on Beatriz González, the famed Colombian and international Postwar artist, and we can't wait to see what chef will come up with next!
Getting hungry yet? Let's go!
The complex, textured Shrimp + Grits is to die for. A robust dish, it features plump shrimp in spicy tomato harissa sauce sitting on a buttery bed of heirloom Anson Mills' cheddar grits. We can still taste it! The Hummus + Flat Bread is creamy goodness paired with Za'atar flatbread, multi-colored cherry tomatoes, mint and cucumber.
Now the Lobster Pizza is a thing of beauty (and easily shareable!) - chunks of lobster and potato elevate this pizza, topped with drizzles of garlic cream sauce and finely chopped lemon gremolata. It's next level. Many rave about the Kimchee Glazed Salmon, and with good reason. It's a perfectly cooked fillet of rich salmon topped with tangy kimchee, served with earthy quinoa (blended with egg, edamame and carrots) and sided with cabbage adding a clean crunch.
For a top-notch brunch (Saturdays – Mondays), try the savory Eggs Benedict with lemon-forward Hollandaise sauce, smoky Canadian bacon, roasted potatoes and a healthy portion of greens. Take note, they also offer a Smoked Salmon Bennie, and a Cuban-style Bennie with house-made Mojo pork and a mustard Hollandaise sauce! YUM.
Families with picky little eaters will also find Grilled Cheese, Beef Sliders or Chicken Fingers paired with fresh fruit and crispy fries. But, there's more to munch on. "Our pizzas are fantastic and easy to share whether it's for the kids or one's inner-child. A new addition to the Brunch menu are the Cinnamon Swirl Pancakes with a pecan streusel topping and maple salted caramel that can serve as a main course or is big enough to share for dessert," Dangaran added.
Verde @ PAMM
1103 Biscayne Boulevard
Miami, FL 33132
(786) 345-5697.