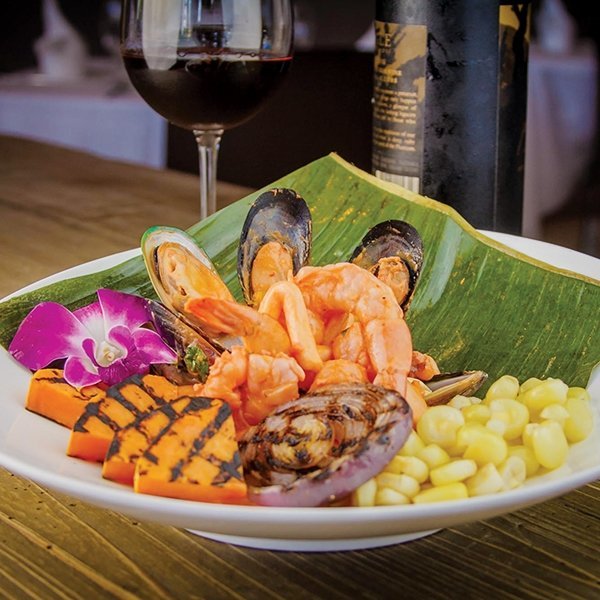 ABOUT O'Lima
The first words that came to mind when we strolled through the doors of O'Lima were trendy and chic. Nestled amid the fashionable shops of Bay Harbor's Kane Concourse, O'Lima's open floor plan radiates style and comfort. White tablecloths drape every table, while contemporary light fixtures dangle from the high ceiling, creating an air of sophistication and stylishness that made us feel right at home. In addition to the main dining room, there's also a cozy bar area, with a signature cocktail menu offering a selection of martinis, mojitos and six pisco cocktails, including our fave, Pisco Sour, in addition to a robust wine selection. As excited as we were about the drink specials, we couldn't wait to sample the cuisine. Executive Chef German Gonzales, who studied at Le Cordon Bleu, has created an expertly prepared menu, featuring Peruvian fusion fare. A selection of dishes with Japanese influences, historically rooted in authentic Peruvian cuisine? We were definitely in!
Appetizers
Ceviche A La Brasa
We couldn't have started things off better than with this specially grilled ceviche! Mmm. So good! All ingredients were perfectly seared and exploding with just the right amount of that smoky flame flavor that really got us stoked for what was to come.
Tiradito de Cilandro
Imagine thin slices of fresh fish in a spiced cilantro sauce, accompanied by fried calamari and caviar. We were awed by the perfect balance of spices, and the marriage of different textures in this unique combo. Mouthwatering doesn't even begin to describe it.
Tiradito Nikkei
Okay. This dish is a perfect example of something that shouldn't work together, but somehow not only does, but excels at expectations. This selection consists of thin slices of tuna in a tasty Mexican-Nikkei Fusion sauce. While Nikkei, the combination of Japanese and Peruvian cuisine, has become a gastronomic hit, this flavorful dish really hit it out of the park!
Conchitas a la Gorgonzola
Scallops can be tricky. Sometimes they can be mediocre, other times fabulous. We are pleased to report that in this case, they are definitely the latter! Served on a scallop shell, this delish plate of sautéed scallops topped with gorgonzola in a Chicha Morada reduction was all kinds of wonderful.
Tiradito de Tuna Con Sandia
As much as we wanted to save room for the entrees, we couldn't resist this great fusion of Peruvian and Japanese flavors. The red tuna is thinly sliced, accompanied by watermelon, wasabi, and Ponzu sauce. A great way to whet our appetites for the main event!
Entrees
Quinotto Andino
First off, let's just say the presentation for this Quinoa risotto with shrimp, drizzled in white truffle oil, was gorgeous. And it tasted even better than it looked! We savored each bite of thick, rich, shrimp, coated in creamy goodness. The fresh, grilled flavor definitely tickled the palate and made us totally ignore our waistlines.
Lomo Saltado O'lima
OMG. This Angus Certified filet mignon was mouthwatering, juicy, and tender. It's served with Green Grape Aji Amarillo Sauce with Pisco and had our taste buds doing somersaults.
Pulpo A La Parrilla
If we could only return to O'Lima one more time for just one dish, then this selection of octopus would be our pick! This is an octopus lover's absolute dream dish, served whole with tentacles and all. Talk about a definitive charred, soft, and smoky balance! It's served with golden potatoes, grilled asparagus, Chimichurri-Panka pepper sauce and spicy rocoto sauce. Magnificence on a plate!
Dessert
Passion Fruit Mousse & Toblerone Tiramizu
Despite being wonderfully stuffed to the gills, we couldn't resist topping our feast off with these decadent treats as we contemplated our next visit.
1052 Kane Concourse Bay Harbor, FL 33154
305.864.4392