Tweet
FOODIE DIARIES – BALL & CHAIN – CUBAN MORSELS, MUSIC AND MUCH MORE!
By Daisy Cabrera
Little Havana is world renown for offering the very best in Cuban culture stateside. On any given day, stroll down SW 8th Street for a heaping taste of sightseeing - cigar shops rolling up thick tobacco leaf casings, pink marble stars on the "Calle Ocho Walk of Fame" honoring Celia Cruz and other famous Cubans, oversized brightly colored roosters lining the block, the packed Máximo Gómez Park where old timers play dominoes, and art galleries galore showcasing great Cuban art.
Ball & Chain not only sits in the heart of all this lively energy, it brings flavorful sazon to this go-to neighborhood. And, we're completely enamored with this beloved haunt!
Zack Bush, co-owner of Ball & Chain and Mad Room Hospitality, shared his love for Little Havana and its people. "Little Havana is this incredible darling of a community, and Little Havana is what it is today - vibrant, authentic, alive - because of its incredible people."
Before we praise the yummy food, let's start with Ball & Chain's musical legacy. Grab your guayabera and get ready to groove to everything from jazz, clave, son and rumba to salsa, mambo and even Afro-Cuban funk. (Don't miss their free, weekly dance classes!)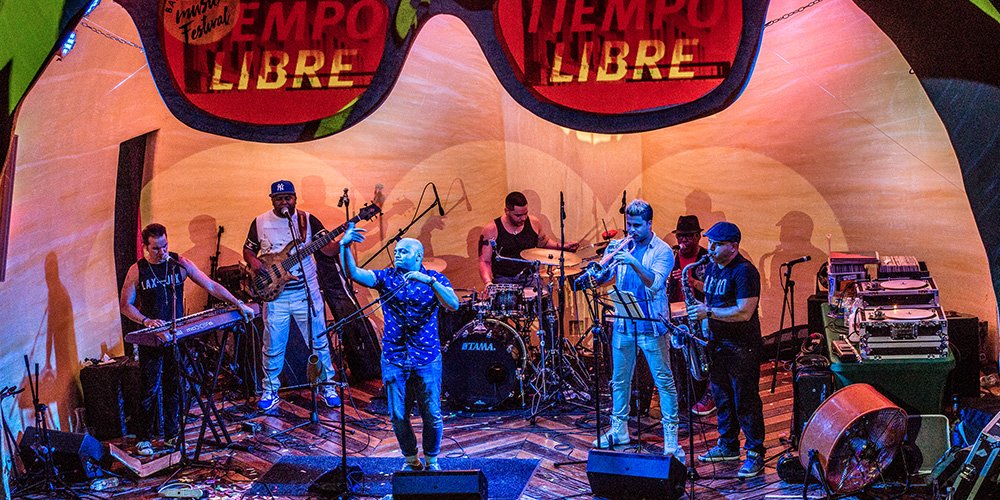 Tiempo Libre Band
This iconic locale, built in the early 1930s, is synonymous with music. In fact, Ball & Chain offers 100 hours of live music - for free - every single week! Between the inside area and outdoor "Pineapple Stage", countless singers and musicians have performed here. Just to name drop a few… Tito Puente Jr., Nil Lara, Conjunto Progreso, Calle Sol, Tony Succar, Edwin Bonilla, Locos Por Juana, BARRIOACTIVO, Palo!, Lucy Grau and Marlow Rosado.
"Ball & Chain has so much history. People are drawn to Ball & Chain for the incredible vibe, and they venture to the venue, day and night, to stand in the very building where Count Basie, Billie Holiday, Chet Baker, and so many others once performed," said Bush. "When you combine the music and energy with the incredible cocktails and food - it is definitely the place to be in South Florida." During their "Salsero Sundays" weekly event, we witnessed a breathtaking, magical jam session by the Kemuel Roig Latin Quartet. Roig, a well-known Cuban pianist, composer, and producer, has performed with legends such as Arturo Sandoval.
Music pumps through Ball & Chain's veins, and it's evident that supporting local artists is a top priority for them. "Miami has so many incredible artists and musicians, and we are truly proud to support so many of them," Bush added. "The live music scene in Miami has grown leaps and bounds in the last several years—and we LOVE that we are able to showcase some of these artists who are as talented, if not more so, than any musicians anywhere in the entire world!"
The taste of mouth-watering Cuban tapas goes hand in hand with the magnificent sounds of Cuban music for a well-rounded experience. And, this happening joint is where you'll want to satisfy your craving for both!
Congri Fritters
Starting with lunch at noon and going well into the evening hours, Ball & Chain offers a variety of food. Open up that appetite with the crispy, sweet mariquitas de maduros – homemade traditional plantain chips served in a copper mug. You will not want to share these! We devoured the chicharrones, generous chunks of pork belly seasoned with chipotle aioli and lime. Smoky, and oh-so flavorful, these arrive at your table in a mini-paella pan.
The congri fritters, made with arroz moro (black beans mixed with white rice) are to die for. These rice balls come in a mini-roasting pan, and are lightly fried with cheese while topped with a dot of mustard aioli.
Other game changers: the stellar lechón (roasted suckling pig) tacos, churrasco (grilled skirt steak) sliders topped with green chimichurri, and the queso frito (fried cheese) with a sampling of guava rum sauce. Ahhh!
When in Rome, right? Or rather, Little Havana! The juicy Calle Ocho Burger is extraordinary – aged, tender angus beef with the works - toasted brioche bun, melt-in-your-mouth Tillamook cheddar cheese, pickles, tomato, and healthy sides of crunchy potato frites and grilled pineapple slaw. Did we say juicy? This one really hit the spot!
Meanwhile, the signature Medianoche (translation: middle of the night) sandwich is a dish we can't recommend enough. Picture this beauty: layers of mojo-marinated pork, ham, swiss cheese, pickles and mustard aioli paired with pan suave (a sweet, soft bread made of eggs). Devour this morning, noon or night!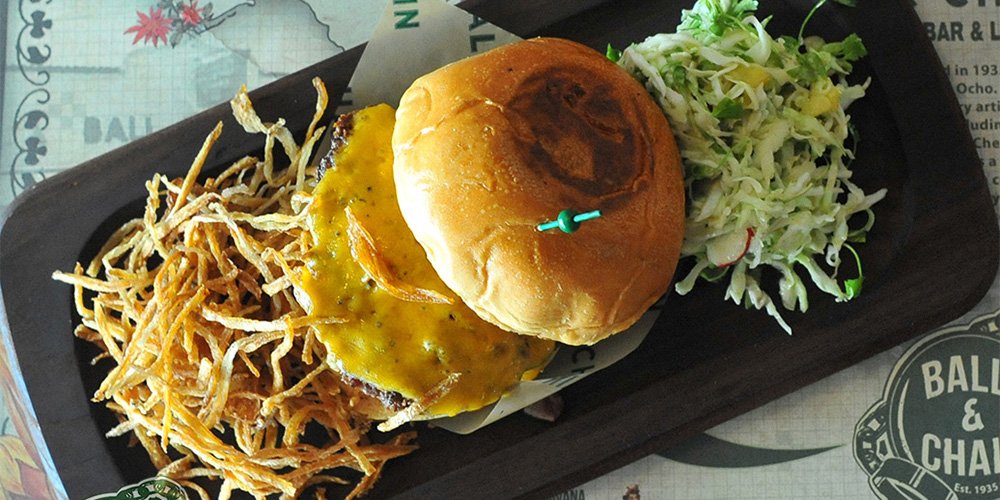 Calle Ocho Burger
Must-try desserts: Pastelitos de Guayaba (perfect guava filled pastries) and the fluffy Dark Chocolate Tres Leches with a welcome boost of 12 year old rum.
Now onto Ball & Chain's extensive list of cocktails. Cheers!
The traditional Mojito is sheer goodness: refreshing, tart and sweet. Crafted by expert mixologists, enjoy this perfectly balanced classic made with fresh lime juice, Bacardi rum, sugar and mint sprigs.
On the other hand, the Calle Ocho Old Fashioned swaps out the bourbon for – you guessed it – aged Bacardi rum! Add to the smoky mix: dark Demerara sugar crystals and tobacco-infused bitters with a tobacco leaf adorning the rocks glass.
Keep the party going with a whisky-forward Havana Regal, or a rum-based Cañita with a sugarcane stick to boot. Just when you think the experience can't get any better – try a cocktail that might be too amazing to drink (or eat!) The Pastelito Daiquiri mixes rum, homemade honey syrup, guava puree, fresh lime juice, and is garnished with a PASTELITO. OMG.
You'll be in fabulous company at Ball & Chain since the place is a magnet for endless A-list celebrities: Fonseca, Juanes, Cardi B, Gigi Hadid, Andy Garcia, Jessica Alba, Demi Lovato, Joe Jonas, Gabrielle Union, Chucho Valdez, Willy Chirino, Bad Bunny and so on, and so on.
Ball & Chain is open daily. 1513 SW 8th St, Miami, FL 33135. www.ballandchainmiami.com