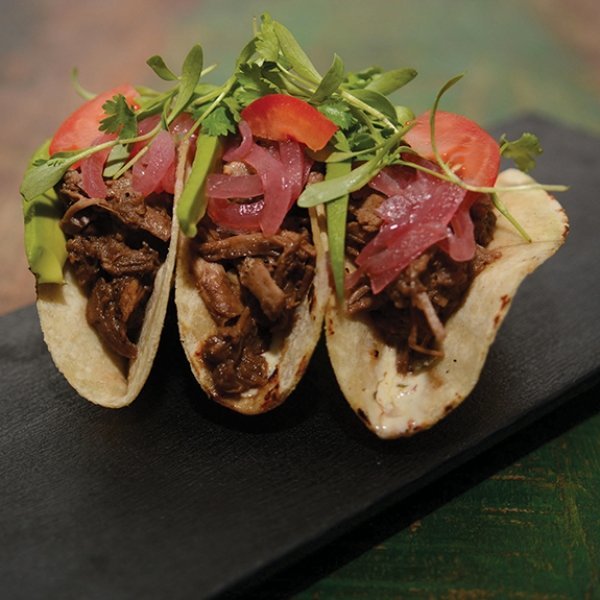 About B BAR TAPAS & GRILL
Immediately upon entering B Bar, we were impressed with the homey, neighborhood atmosphere and open space. Things were hopping on a Thursday night, creating an energetic, yet relaxed, vibe that completely drew us in. The décor was unique and understated, with white walls and plenty of wooden tables, illuminated by Edison bulbs creatively dangling from ropes attached to the ceiling. We absolutely loved the mural that dominated one wall of the restaurant, a colorful depiction of the life of Buddha that added just the right touch of exotic flavor. On the opposite wall, there was a long bar that was buzzing with friendly activity. We couldn't help notice that the mixologist, Matt Giles, was very enthusiastically mixing drinks, two at a time, while creating his own delish concoctions. Martinis poked with bamboo skewers? Loved it. Pssst. Just between us, try the Garden Margarita! We did some polite snooping and got the scoop: Thursday night features drink specials for the ladies, including $50 veuve clicquot bottles. There's also a Latin night on Saturday, with live music and dancing. This is all in addition to the daily happy hour specials from 5:00pm to 8:00pm, offering generous discounts on tapas dishes and cocktails, as well as the Taco Tuesday deals, including a late night happy hour Thursday through Saturday from 11:00pm to 3:00am. Another plus? B Bar is conveniently located just minutes from Aventura Mall, which was perfect since shopping always makes us work up an appetite! Contributing to the ambiance was the restaurant's great sound system, which pleasantly enough, allows guests to select their favorite tunes on B Bar's iPad. Great mood? Great music? We were definitely ready to discover what Chef Guily Booth had in store for us, especially with a track record of more than 25 years of culinary expertise, including the artful fusion of traditional Spanish-style tapas paired with modern gastronomy.
Tapas
Lemon Ginger Brussel Sprouts
We started things off with this tasty combo, charred to perfection, with a saucy, balanced flavor that kick-started our palates and really hit the spot.
Drunk Mussels
These were hands-down our fave, served with white wine broth, chorizo, tomato, onion, Valbreso Feta cheese, and toasted bread. Cheese with mussels was a first and it was quite the tasty surprise. The large chunks of juicy chorizo gave the mussels a real kick and made the wine broth more rich and complex. We were tempted to drink the broth right from the bowl (but we opted for sipping it from the half shell instead). And the added bonus is that this dish is on the Happy Hour menu, so it's even more reasonably priced. A definite recommendation here!
Truffle Potato Octopus
Disclaimer here. We are certified octopus lovers. This combo of octopus, chorizo, sumac, and sundried tomatoes was definitely inventive! The octopus itself was soft and well textured, while the truffle potatoes were simply fantastic.
Parrillada Platter
If you're looking for a great deal, full-sized portion, and incredibly tasty, this mix of skirt steak, skinny Linguica Calebrese, sweet bread, blood sausage, Mojo chicken, and sweet peppers is definitely the way to go. The portions are larger than the regular tapas dishes; a carnivore's dream.
Tacos
Hard Shell & Soft Shell
Taco lovers rejoice! B Bar let's you mix Hard Shell (Seafood Volcano, Sashimi Grade Truffle Tuna & Green Apple, Kimchi Chicken Salad), as well as Soft Shell (Miso Shredded Beef, Pork Guava Bbq & Oriental Slaw, Carnitas De Atun & Avacado Salsa), so you get the best of both worlds. Though they were all tasty, we definitely had a soft spot for the Miso Shredded Beef, which melted in our mouths, and the Pork Guava BBQ, which was tender and juicy. Yum!
Dessert
White Chocolate Bread Pudding
Though we were getting deliciously full by this point, we can never seem to say 'no' to dessert. And boy, are we glad that we didn't break our rule this time. The decadent combination of berries coulis and dark chocolate shaves was a flawless complement to an ideal meal.
Pear Pie B Bar Style
Imagine caramelized pears with puffy pastry crisp! We adored it, and the deconstructed pear pie was quite imaginative.
2995 NE 163rd Street - North Miami Beach, FL 33160
786.657.2275