By Daisy Cabrera
On May 26,Celebrity Chef Jeremiah Bullfrog hosted the much-anticipated, all-inclusive 4th annual Duck Duck Goose at The Anderson. This daylong cookout was a casual culinary love fest of unlimited Foie Gras and whole duck, top South Florida chefs, cool vibes, great music, and plenty of artisanal cocktail pairings to indulge in!
Birds of a feather flock together... and so they did! Local foodies gathered 'round to celebrate a galore of creative, mouth-watering bites as a stellar lineup of masters threw down.
The all-star headliners read like a marquis of gastronomic gurus:
• Brad Kilgore (Kilgore Culinary, Brava by Brad Kilgore, Kaido, AMA, Alter, Ember)
• José Mendín (Pubbelly)
• Brian Mullins (Ms. Cheezious)
• Scott Linquist (Coyo Taco)
• Nicole Votano (FOH Inc.)
• Douglas Rodriguez (Alma de Cuba)
• Clark Bowen (Boulud Sud Miami)
• Fabian Di Paolo (Cvltvra)
• Melanie and Jason Schoendorfer (Babe's Meat Counter)
• James Strine (Trophy Room)
• Andrew Zarzosa (Yuzu)
• Nando and Valerie Chang (Itamae)
• Steve Santana (Off Site)
• Tom Bils and Joshua Gonzalez (Mama's Boys)
• Alex Meyer and Luciana Giangrandi (La Pollita)
• Santiago Gómez (Cantina la 20)
• Carlos García (Obra Kitchen Table)
• Pablo Zitzmann (No Name Chinese)
• Alissa Frice (Frice Cream)
• Sasha Ullman (Madruga Bakery)
"Chef Jeremiah's 'Duck Duck Goose' is one of the most laid-back, fun chances for chefs to be with people and also to be with each other," said Melanie Schoendorfer, Babe's Meat Counter. "Chefs are walking around, and it's definitely a bang for your buck in this town. You can hang out, talk with people, and it's the best time." The chef whipped up a delicious Duck Boudin Blanc with a side of Duck Tasso Red Beans, and the crowd went crazy.
Sourced from Hudson Valley Foie Gras, some of our absolute favorite samplings of all things winged included: Chef Jeremiah's Haitian Duck Tassot and Yves Pickleez's Duck Duck L'Orange; La Placita's Duck Mofongo with Foie and Truffle Albuera Sauce; Alma de Cuba's Duck Media Noche Sandwich with Smoked Duck Ham, Duck Confit and Swiss Cheese Pickles served with warm Foie Gras Mojo Dipping Sauce; and Kilgore Culinary's Grilled Duck Wings with Fish Sauce Caramel and Pho Spiced Peanut.
There was plenty more: Ms. Cheezious' Hot Duck Pastrami Sandwich with Swiss Cheese, Homemade Slaw, and Russian Dressing on Rye Bread; Off Site's Alabama Smoked Goose Sandwich; Yuzu's Salade Gourmande Tartlet with Foie Gras Tart, Duck Ham cured in JoJo Tea, young lettuce and herbs with Yuzu Vinny and Sofrito Powder; Boulud Sud Miami's Duck Beaujolais Sausage with Cherry, Foie and Apple Mostarda; and Itamae's Foie Temaki. YUM!
Trophy Room's James Strine added, "Jeremiah is a super fun guy to work with! People come to these events to have a good time, eat some good food and have great drinks. And it helps to bring awareness about duck - which is a red meat and a good alternative to beef." Everyone devoured his one-of-a-kind dish, Foie McDucken with hearts and beans.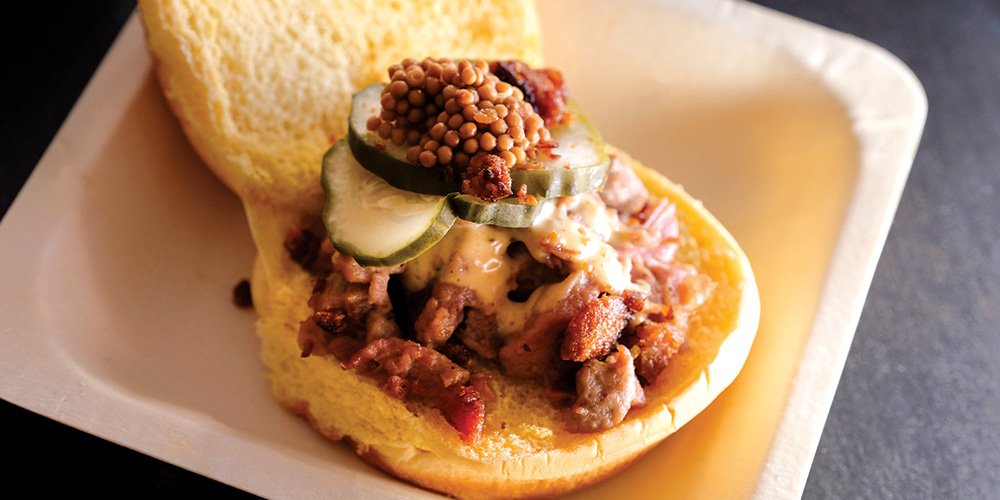 The Tiki bar featured refreshing rum-infused drinks by Mixologist Eamon Rockey of Rockey's Milk Punch in NYC. We just couldn't get enough of the "Love on the Rocks" - a milk punch with Barbancourt rum, passionfruit and champagne. Divine.
Duck Duck Goose's live music was on point! Bringing his unique raspy vocals and plenty of bluesy talent to the homegrown event, Lone Wolf OMB (One Man Band) played several instruments simultaneously – guitar, harmonica and drums included. Next up, JUke's funky vocalist Eric Garcia jammed the harmonica under the sun-filled skies with Marcel Salas on bass, Sonny East on guitar, and Korian Hannah on drums.
Lucky for us, Chef Jeremiah is all about presenting well-rounded, dynamic food experiences like this one right in our backyard. Don't miss his next big showdown, PopRamen! on Sept. 22 at Palm Court in the Design District - the ultimate competition where celebrities and attendees will vote for the best spin on ramen. Count us in!
Follow Chef Jeremiah on social media at @chefjeremiah