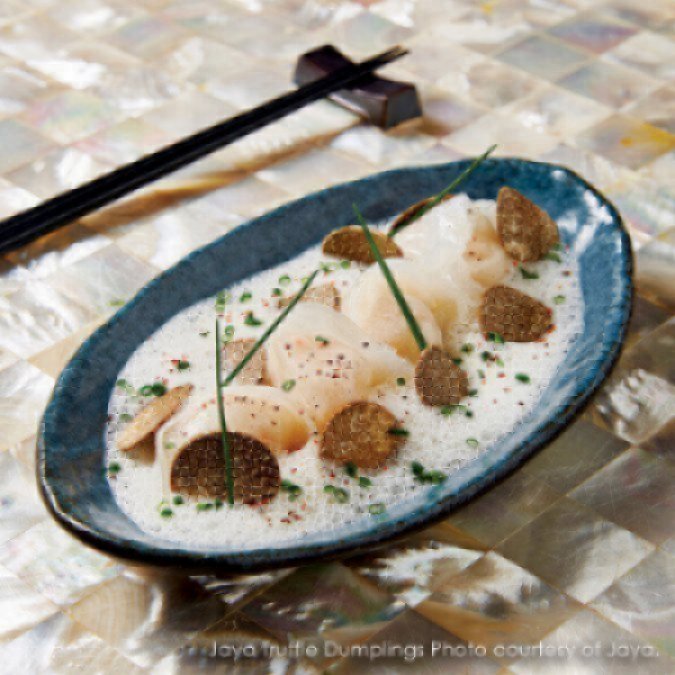 By Daisy Cabrera
LOVE IS IN THE AIR, AND WE HAVE FALLEN HEAD OVER HEELS FOR JAYA! LOCATED IN THE SETAI – AWARDED FIVE STARS BY FORBES TRAVEL GUIDE, AND NAMED #1 MIAMI-BASED RESORT HOTEL BY TRAVEL + LEISURE MAGAZINE – THIS IS WHERE YOU'LL FIND AN INTERNATIONAL WHIRLWIND OF BEAUTIFULLY EXECUTED, CULTURAL STAPLES HAILING FROM ACROSS CHINA, INDIA, JAPAN, KOREA, THAILAND, AND VIETNAM. JAYA'S ROMANTIC DINING EXPERIENCE IS THE DESTINATION FOR INDULGING IN ELEVATED TRADITIONAL AND CONTEMPORARY SOUTHEAST ASIAN DISHES – EACH MORE IMPRESSIVE THAN THE LAST.
"Jaya was inspired by the historical silk and ancient spice trading routes and is a celebration of culinary diversity featuring regional specialties from both Southeast and Northern Asian cultures," said Executive Chef Vijayudu Veena. "Our menu artfully showcases regionally-specific dishes with a bountiful and authentic flair."
A perfect trifecta in upscale excellence, Jaya's ambiance, service and cuisine are impeccable. Upon entering, you're welcomed into a dimly-lit, intriguing and spacious environment boasting sky high ceilings and a chic palette of sexy meets sophisticated hues: crimson décor and pillows, wood and brick floors, black and gray walls, and charcoal and white artwork. Or, sit outdoors and bask in a lush tropical oasis complete with statuesque palm trees and a starry sky. The acclaimed talent, Jaya Ibrahim designed the luxurious restaurant and the word 'jaya' means 'victory' in Sanskrit.
Awaken the senses with savory and seasoned flatbreads that tease the appetite. Thin and crispy Indian Papadum made from tapioca are beyond tasty. Oven-baked Naans, soft and warm to the touch, are served with slightly sweet cashew curry dipping sauce. Mini tuna tacos, which arrive in unexpected nutty-flavored taro root shells, burst on the palate with tangy and mouth-watering flavors. Jalapeño relish gives the healthy chunks of fresh tuna a spicy kick, while creamy avocado and slivers of radishes play in the background. Now enter Chinese Dim Sum heaven: a bowl showcasing elegant truffle dumplings – stuffed with steamed shrimp and scallops – swimming in an airy and decadent truffle foam while topped with a generous amount of truffle shavings. Pair these highlighted appetizers with a dry White Burgundy Chardonnay. All delicious, and all devoured!
"My upbringing has heavily influenced my cooking, giving my style of cuisine a very distinctive flavor palate for diners," added Chef Veena. Born in India, the skilled culinary maestro traveled the world and formally studied in Switzerland. "While most of my colleagues consider salt their 'go-to' ingredient, I find myself reaching for cumin, saffron and curry." Curries evoke a sense of home for the chef, and his other must-haves include: turmeric, cardamom, ginger, cinnamon, chilies, coconut milk, and tamarind. All of these balance his contrasting and complementing creations while stirring sensations and lending magnificent aromas.
Jaya offers plenty of rich, and diverse plates to continue this flavorful journey. And, we recommend pairing the following with a complex, ruby red wine that will enhance your meal.
Nasi Goreng, a house specialty, is gloriously spicy. This punchy stir-fried rice is made with chicken, shrimp, peanut relish, and chili sambal – with a bonus sunny-side-up egg on top. Break the yolk, and just dig in! Next up, drool over the authentic Thali Platter, a wide-ranging regional tasting presented in shiny copper pots served with Naans and fragrant rice. With everything exquisitely created in Masala or Curry sauces – various delicacies make an appearance including chicken, lamb, fish, okra, lentils, eggplant, vegetables, Samosa and yogurt. Talk about an Instagrammable feast!
Last but not least, the all-time Beijing favorite that is the juicy Peking Duck. Glistening and ever-so succulent, you'll want to wrap this roasted goodness in steamed pancakes and pile on the works. Chef Veena shares, "I'll always recommend Peking Duck as it's more of a hands-on experience. I like the way the dish has evolved in taste and preparation. It includes pancakes, scallions, and plum sauce that guests can assemble on their own which makes for an interactive experience and underscores our family-style dining philosophy."
Deservingly so, such a bountiful and textured food explosion should end on the highest note! The refined chocolate torte is an extravaganza: crispy chocolate feuilletine, sweet caramel passion cream, dark Devil's food chocolate cake, and buttery hazelnut mousse. Ahhh! The Macallan cappuccino, served in a cappuccino cup naturally, is a super creamy concoction of coffee crème caramel, chocolate crumble, coffee ice cream, with a layer of Macallan whiskey foam. (Foodies, the foam alone will make you order as second!)
Friday evenings, expect fire dancers and other entertainment during their 'Asian Night Bazaar,' 'Setai Unplugged' on Saturday nights is spent with live music and DJs, and Jaya's 'Sunday Jazz Brunch' is complemented with unlimited Louis Roederer bubbly. Yes, please!
Jaya. 2001 Collins Avenue, Miami Beach, FL 33139. Reservations: (855) 923-7899