Tweet
Celebrating Hispanic Heritage Month, one bite at a time
By Daisy Cabrera
South Florida certainly has no shortage of authentic food offerings. From Argentinean, Cuban and Brazilian to Colombian, Dominican and Venezuelan – there is so much traditional cuisine to enjoy. It's like traveling the world right in our own backyard. In honor of Hispanic Heritage Month, Sept. 15-Oct. 15, we're exploring vibrant restaurants that dish out plates with a sundry of ingredients, spices and seasonings from their native countries. Off we go!
La Mar by Gastón Acurio
At La Mar by Gastón Acurio, exquisite taste is timeless. The five-star menu features the cuisine of award-winning Chef Gastón Acurio as presented by Executive Chef Diego Oka. The expert chef spent time at various Acurio-owned establishments across global cities, and here he brings the finest in Peruvian gastronomy.
Sit outside for dinner, and enjoy the sweeping views while sipping on classic Pisco Sours. The juxtaposition of Brickell's high-rises in the horizon, glistening Biscayne Bay waters, and an Art-Deco-inspired Miami sunset sky will take your breath away. All the while, La Mar's dishes are gorgeously presented against this gorgeous backdrop. This is a vacation, friends.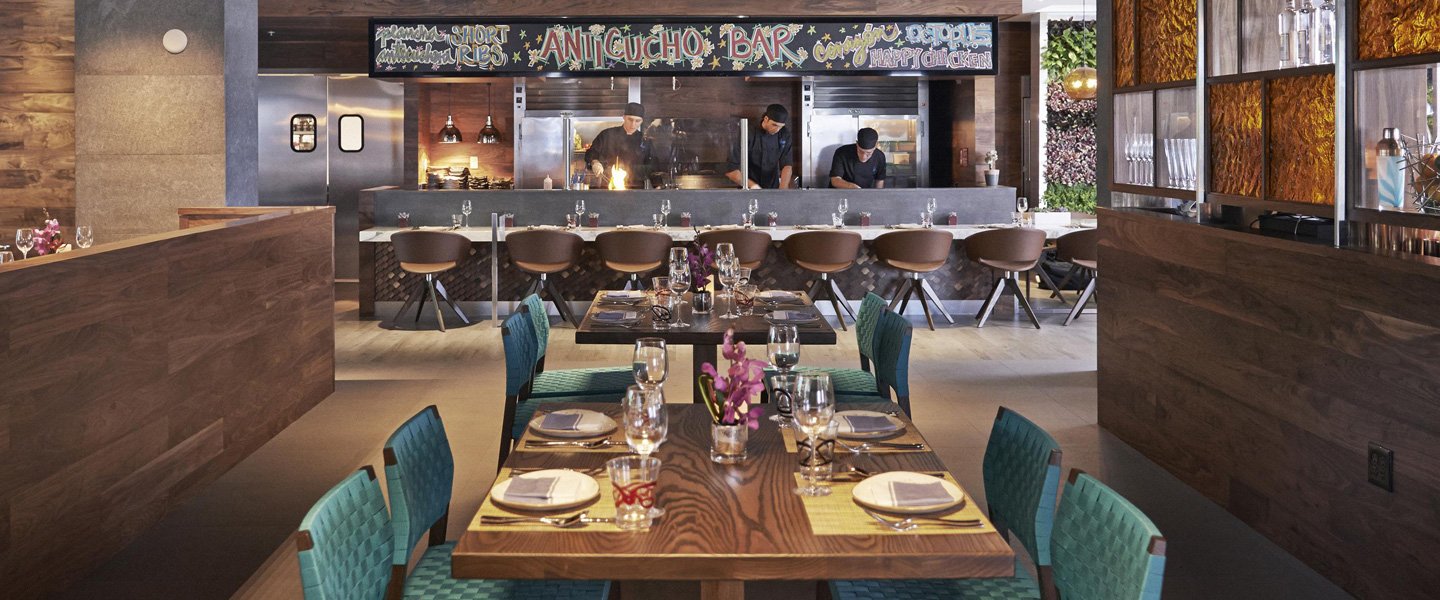 The Bachiche dish is an extraordinary Tiradito. Sashimi-style slices of fresh snapper meet leche de tigre (a citrus-based marinade), colatura (fish sauce), and basil oil basking in aged parmesan cheese and topped with darkly-colored garlic chips.
With several unique cebiche options featuring the catch-of-the-day, go for the Cebiche Sampler (yes, that's how the restaurant spells it) and pair it with a Peruvian Sauvignon Blanc. The Clasico is flavorful fish, ají limo pepper, red onions, and choclo (giant-sized kernels of Peruvian corn) sitting in leche de tigre with cilantro topping. The wonton strips add a splendid crunch to the Chifa - fish, peanuts, ginger, cilantro, pickled vegetables, and sesame leche de tigre. And, the Carretillero is pure texture: fish, shrimp, octopus, crispy calamari, choclo, cancha (toasted corn), and spicy leche de tigre with the surprise element of sweet potato cubes.
Next on deck - La Mar's Anticuchos, seared over the anticucho grill, are a sheer delight! The Corazon entrée is marinated veal heart, confit potatoes, choclo, and creamy tari sauce (brightly-colored yellow pepper sauce) – all served on skewers.
As a grand finale, indulge in two dishes popular in Peru. Lomo Saltado's tender, juicy pieces of beef tenderloin stir-fried in a wok meet tomatoes, red onions, cilantro and chunky potato wedges – all in a light soy sauce. It's served with rice and choclo. Ahhh…divine!
The aromatic Chaufa Aeropuerto comes in a hot stone pot and is mixed right at the table. Concolón (rice crust from the bottom of pan) lends a brittle touch to this masterpiece. "Chaufa Aeropuerto comes from the regular chaufa (fried rice) and the Aeropuerto version is a regular chaufa enhanced," said Oka. "Our version includes a bit of everything - rice, quinoa, noodles, BBQ pork, Chinese sausage, shrimp, egg, pickle veggies, scallions, peppers, sesame, oyster sauce, soy sauce, garlic, ginger and more!"
Always end on a sweet note, and La Mar has plenty of desserts to choose from. Enjoy the Beso de Moza, a luscious Peruvian chocolate shell coating strawberry and rocoto merengue, with crispy quinoa and delish goat yogurt ice cream.
La Mar by Gastón Acurio, Mandarin Oriental,
500 Brickell Key Dr, Miami.
Reservations: (305) 913-8358
Casa Frida
Ft. Lauderdale is home to Casa Frida, a place feels like home away from home. Here you are transported to Mexico set to a bohemian ambiance: terracotta and mustard-colored walls, folk art, colorful wall tiles and wooden furniture, Mayan and Aztec-inspired masks lining the walls, framed photos, and even a shrine – complete with candles and flowers – dedicated to the late artist Frida Kahlo.
This family-owned and operated restaurant, led by Sommelier Victor Bocos and Julieta Bocos, is a homage to their ancestors. Each ancient recipe reflects various regions in Mexico while every dish, sauce, drink, and dessert is homemade.
Printed on their menu, you'll notice "There's Mexican food, and there's the food of Mexico." There is so much misconception about Mexican food, such as it's all heavy and super spicy. Nothing could be farther from the truth. In fact, authentic Mexican cuisine is varied with organically grown and freshly made ingredients that add big flavors!
The origin of Casa Frida's dishes range from the North, Central and South of Mexico, with weekly specials showcasing different areas. "Mexico has 32 states, and each state has its own traditions, customs and cuisine. This is why authentic Mexican cuisine has so much diversity," said Victor Bocos.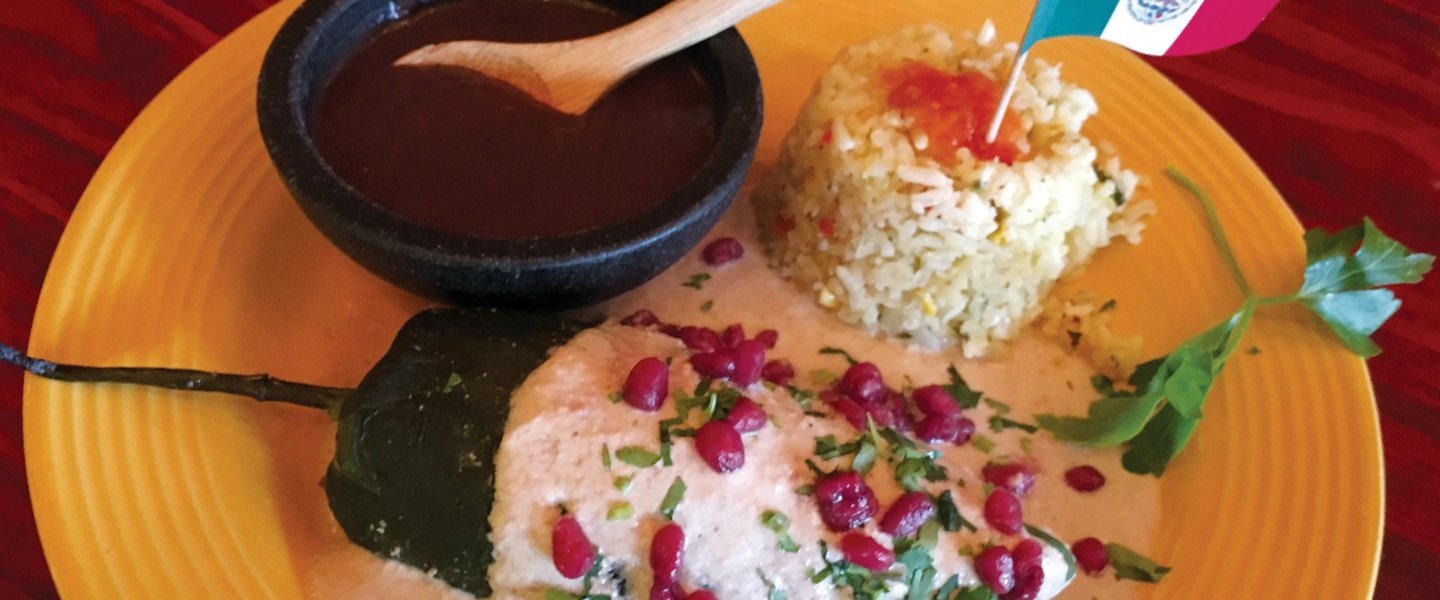 There are plenty of creative cocktails to wet your whistle. The cucumber-lime-jalapeño gem of a margarita is refreshing, tangy and has a little kick. La Paloma is made with blue agave tequila, fresh lime juice, orange juice and citrus soda. Both are flawless.
It's hard to choose with a delightful menu items beckoning, but let's start with Casa Frida's mole sauces - complex, layered, balanced, and intricate. Pair the classic mole poblano (reddish brown) with chicken and turkey, while the earthy mole verde (bright green) bodes well with seafood.
Rajas con Crema offers roasted mild green poblano chili pepper strips, corn, onions, Mexican sour cream, a layer of grated Chihuahua cheese (semi-soft white cheese) and baked flour tortillas chips. Must-have guacamole, topped with a hint of queso fresco, is a mouthful of goodness. Ripe plantain turnovers, stuffed with cheese and topped with green tomatillo-avocado sauce, is just sensational! And, they have plenty of spicy sauces to add a kick to any plate.
The Cochinita Pibil, also referred to as Mayan Pork, is soooo tasty. Boneless leg of pork, infused with sweet and peppery achiote sauce, is wrapped in a banana leaf and oven-roasted. You can't get more authentic that this. The tender and moist creation is plated with pickled red onion, rice and beans. Onto the Barbacoa de Borrego, a boneless leg of lamb in adobo wrapped in a banana leaf, oven-roasted and served with cactus (nopales) pico de gallo, and refried beans. Don't forget the warm corn tortillas to wrap all this incredible food in.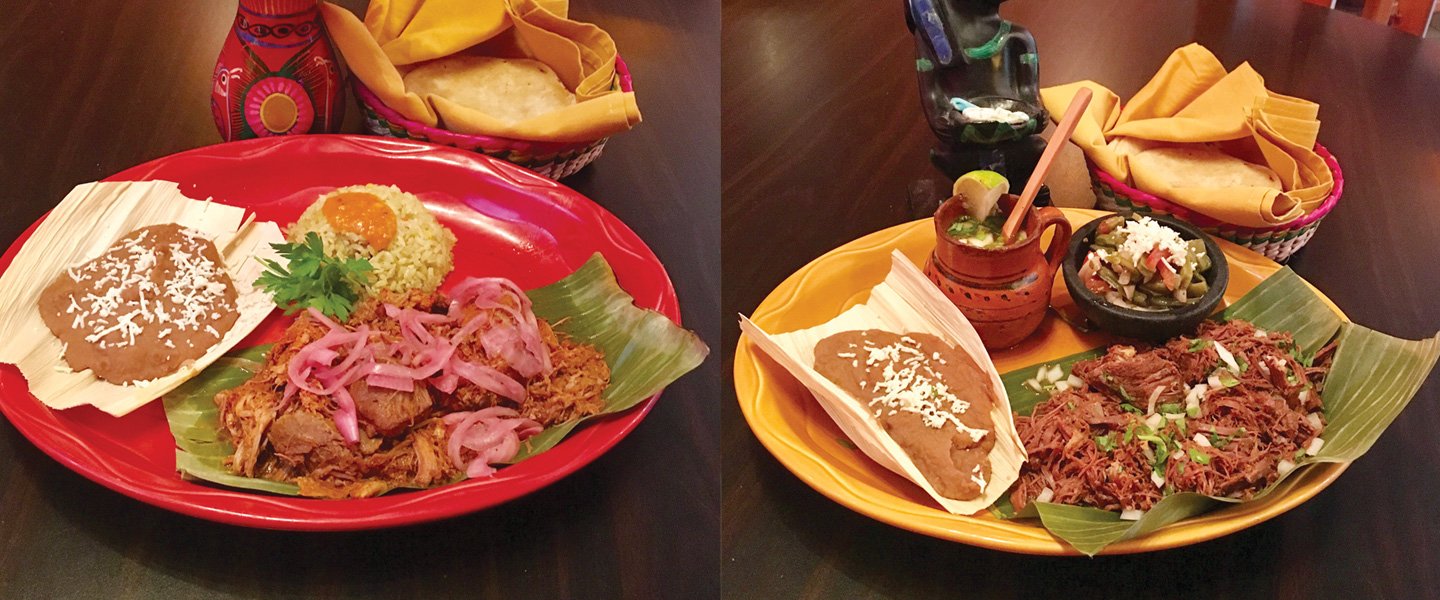 Then there is the elegant Chiles en Nogada. This carefully crafted recipe, which celebrates Mexico's independence, was originally created by Puebla nuns over 100 years ago. It features a roasted green poblano chile stuffed with ground sirloin, almonds, raisins and chopped dried peaches, pears, and apples. Covered in a white walnut tequila crème sauce, they sprinkle red pomegranate seeds on top. It's so beautiful, you almost don't want to eat it. Almost.
"Chiles en Nogada is one of the most important dishes from Mexico because it combines the flavors and diversity of all Mexican cultures that has formed Mexican gastronomy throughout time," Julieta Bocos shared. "It's the dish of Mexican nationality that brings the colors of the Mexican flag to the plate."
Leave room for some deep-fried dessert: Los Buñuelos (fritters) topped with Agave syrup piloncillo sauce and cinnamon sugar, as well as Los Churros de Cajeta (crullers) topped with goat milk dulce de leche and Mexican chocolate syrup. YUM!
Casa Frida
5441 N. Federal Hwy, Fort Lauderdale.
Reservations: (954) 530-3668
Tapeo
Now it's time for some mouth-watering tapas. Ole! Located steps from the water on the historic Clematis Street, Tapeo recently opened its doors in West Palm Beach. Taking its name from "tapeo" –the Spanish term for tapas-hopping – this restaurant delivers the very best of Spain right to your table.
Owner (and chef) Carlos Mendez of Galicia, curated an exquisite menu of classic fare for your enjoyment. The floor level, with its large Spanish-themed artistic murals by SUEWORKS, is a casual dining experience for yummy weekday bites, pitchers of fruit-filled Sangria, and fun happy hour festivities. Upstairs is a different story: dark wood floors, rustic tin ceiling, framed paintings of matadors and bulls, cloth-lined tables, and the music of live flamenco guitar all await your magnificent evening ahead.
Take advantage of Spain's high quality wines found at Tapeo. Choose from cava, whites, rosé, tempranillo, or homemade red or white Sangria to accompany your meal.
Begin your tapas journey with Tabla Variada, a striking assortment of sliced Spanish meats (nutty Ibérico ham, smoky Chorizo, and Salchichón summer sausage) accompanied by slivers of Spanish cheeses (Manchego made of sheep's milk, soft Tetilla from Galicia, buttery Mahon, and sharp Idiazabal made only in the Basque Country) that shares a wood board with sweet Membrillo (a sweet, thick jelly made of the pulp of the quince fruit), toasted bread, crackers and Spanish olives.
The vibrantly colored, sautéed Chorizo Español (pork sausage), served in a mini skillet, packs a bold punch – savory fat, smoked pimentón (paprika), mildly sweet with a firm consistency. The Camarones al Ajillo, which hails from Andalusia, is also served in a mini skillet. Here, small shrimp is sautéed in a tangy sauce of garlic oil, white wine and a little hot pepper. Make sure to order both.
Considered Galicia's "national fish" – the Pulpo a la Plancha (grilled octopus) is a delicacy that is not to be missed. Tapeo offers up a generous portion of this intensely flavorful dish: a thick octopus leg that is warm, tender, and juicy with a hint of sweetness. It's beautifully presented with a salad portion of mixed greens, onion, tomatoes and citrus vinaigrette dressing. Add this to your line-up!
Last, but not least, the beloved treasure named after its hometown - Paella Valencia. Tapeo's version is a heaping party in a pan: short-grain Bomba rice, shrimp, clams, mussels, calamari, scallops, chorizo, chicken, and sweet peppers. It's the epitome of perfection.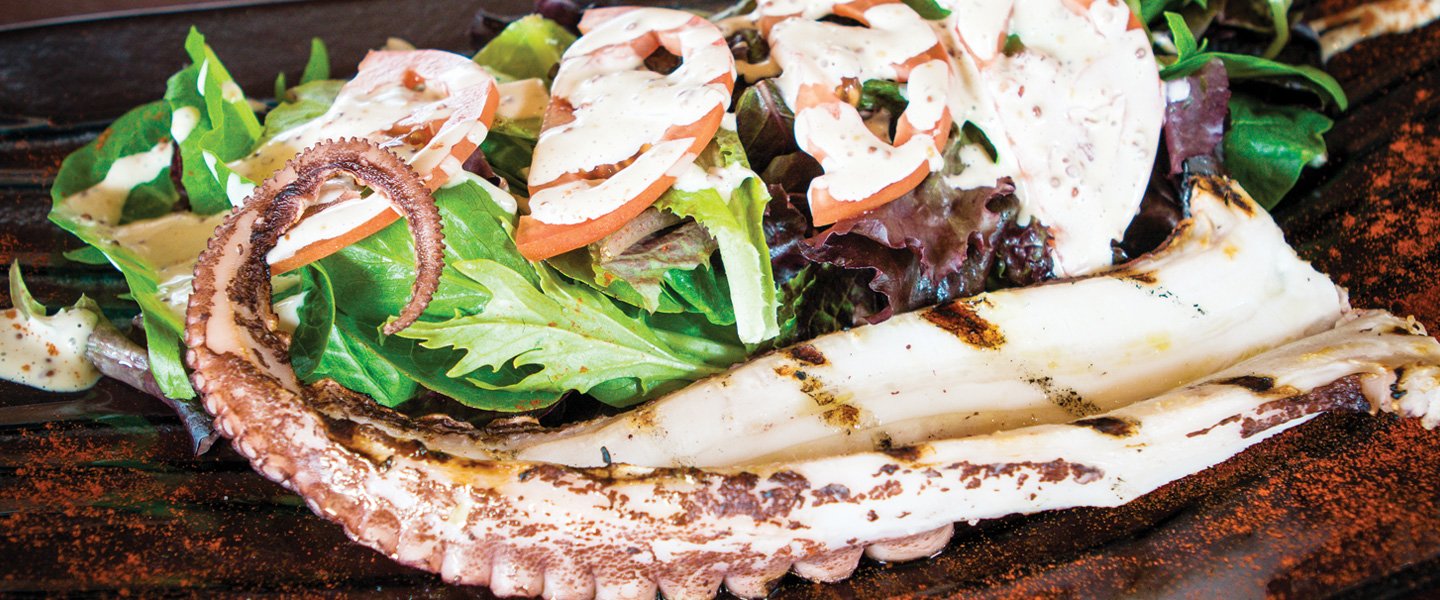 "The secret to the Paella is the base, broth, Spanish Bomba rice, and saffron. Most people don't use this because they don't know how, or they try to cut corners," Carlos Mendez shared. "We put the base in first, then the rice, then the broth, and then all the seafood. We cook that for about 15 minutes, place it in the oven for about another 10 minutes, take it out to put shrimp on top, add more broth and return it to the oven for about another five minutes. This way the shrimp cooks but doesn't get chewy or overcooked."
According to Tapeo, the base in every Paella is made each morning and cooked all together: fresh bell peppers, Spanish onions, fresh garlic, fresh tomatoes, salt, pepper, and saffron. The broth (added to the Paella as its being cooked) is made of: fresh vegetables, shrimp shells, fish bones, chicken bones, and saffron. All of this lends itself to a fragrant, bountiful, and picturesque Paella.
A meal isn't complete until you've had dessert. We recommend the Crema Catalana custard garnished with a handful of fresh blueberries. Similar to a Crème Brûlée - it's light, creamy, has a thin crust of caramelized sugar – and it's an absolute favorite across Spain.
Tapeo
118 S Clematis St, West Palm Beach.
Reservations: (561) 514-0811