Tweet
Caribbean305 was a night of carousing, cuisine and culture
By Daisy Cabrera
The 3rd annual Caribbean305 on June 22 was a festive representation of the region's offerings: warm hospitality and generous smiles; traditionally-dressed moko jumbies stilt walkers; deliciously elevated culinary bites; refreshing handcrafted cocktails; and colorful Carnival dancers in head-to-toe bright feathers, and shiny sequins.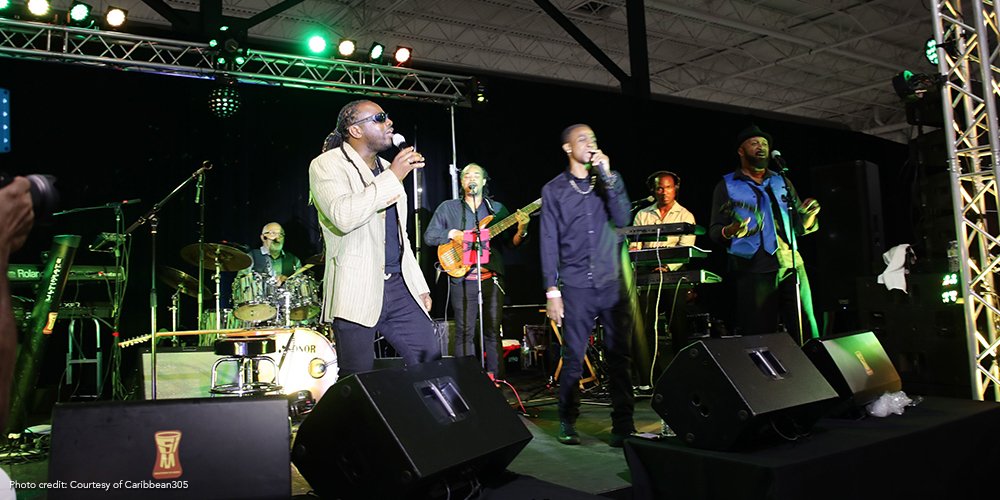 "This year, Caribbean305 is in a new venue - Mana Wynwood - as it allows us to accommodate for the growth we have seen with this event year after year," said Matthew Cooper, Chief Marketing Officer for Caribbean Hotel and Tourism Association (CHTA). "Wynwood is one of Miami's most eclectic districts known for dynamic street art and as an enclave for Caribbean immigrants, so it was the perfect location to showcase a new and improved Caribbean305. As well, this year we had some wonderful national companies as sponsors, including Monster Energy and Belvedere." Also new to the event was the '2019 Contemporary Caribbean Individual Street Pork Competition' - a food sport challenge requiring countries to create their destination's best traditional street-style pork dish. The twist, however, was to use the "Caja China" method – Miami's favorite pig-roasting box.
Caribbean305 guests were greeted with a lovely variety of rum-infused, flower-adorned welcome drinks, and lively steel pan music by Lauderhill Steel Ensemble's finest pannists. Led by Dr. Selvon Nanan, the band was named 'Miami Carnival's Panorama Steelband of the Year' in 2018. Multimedia entrepreneur and Miami-based influencer, Vanessa James never misses any event that celebrates all things Caribbean. Naturally, she's attended this event since the very beginning. "I love being able to connected with the various tourism boards, and watching them bring their A game to showcase the brightest and the best chefs and mixologists out of the Caribbean is truly a treat," she expressed. "The interaction with the chefs and patrons is also a plus. We have the ability to meet some of those most famous on IG for their delectable dishes so its always a joy to meet them in person."
As a child of the Caribbean, born in Trinidad and Tobago and hopping around to many islands before landing in Miami, James has seen firsthand that the Caribbean is much more than sand, sea and sun. "The vibrancy, the culture, the beautiful array of personalities and people that make up the Caribbean is what makes the Diaspora special. It's a beautiful melting pot of matched with a roaring economy. I'm glad the world has caught notice and is appreciating all that the Caribbean has to offer!"
Leading award-winning chefs from across 14 nations were on hand serving up an abundant soiréeof unlimited, mouth-watering culinary delights representingBahamas, Barbados, Belize, Bonaire, British Virgin Islands, Cayman Islands, Curaçao, Grenada, Jamaica, Puerto Rico, St. Lucia, Suriname, Trinidad and Tobago, and Turks and Caicos. Foodies rejoiced as many savory tapas were devoured.
Here's a list of our absolute stand-out favorites. We can still taste these staple preparations!
- Bahamian stewed chicken with dried conch and stone ground yellow grits
- Barbados' rum cake with a spiced Mount Gay rum cream
- Belize's bread pudding baked on top of a burnt sugar layer and drizzled in Craboo fruit cream
- British Virgin Islands' stewed salt fish served on top of a crispy Johnnycake
- Curaçao's fried polenta with salt fish
- Jamaica's jerk red snapper fillet with okra and sweet potato
- Puerto Rico's fried pork with pickled onions and pigeon peas
- Turks and Caicos' conch chowder finished with a Scotch bonnet oil
"Caribbean cuisine is unique because it is a fusion of African, Creole, Cajun, Amerindian, European, Latin American, East/North Indian, Middle Eastern, and Chinese. These traditions were brought from many different countries when people came to the Caribbean," added Cooper. "This eclectic mix was translated into the food through the use of spices and herbs. Each bite is infused with a variety of flavors. Local ingredients - things like plantains and pork - are also essential staples in creating flavor combinations that simply are not found elsewhere."
The event's destination hopping also included corner-to-corner open bars highlighting premium libations poured by top bartenders and expert mixologists. Cheers!
Bahamas whipped up a luscious concoction of soursop fruit purée, vodka, coconut water, and sugar. Barbados' thirst-quenching lemonade was a fusion of lemon juice, lime juice, vodka, lemongrass, bay leaf, ginger and sugar. Cayman Island's tropical drink mixed vodka, raspberry purée, lemon juice, and vanilla/hibiscus syrup. Grenada's tangy potion included vodka, Peach Schnapps, passion fruit juice, mango juice, lime juice, Grenadine syrup, mint, watermelon, and passion fruit. St. Lucia's elixir blended mango vodka, ginger syrup, passion fruit juice, lime juice, and orange bitters. And, Turks and Caicos' much-talked about cocktail featured vodka, coconut rum, passion fruit purée, coconut milk, lemon juice, and sugar.
VIP ticket holders were treated to early event access, an exclusive seated area, dedicated bar and passed bites, and goody bags to take home. Aside from all-inclusive samplings and learning about the various Caribbean countries, Caribbean305's main stage was jamming with plenty of island sounds and live entertainment to dance the night away - DJs, bands, singers and solo musicians performing jazz, reggae, soca, salsa, and zouk music.
"The Caribbean is known for its gorgeous weather and beaches that are accessible year-round. Any time is a great time to visit the Caribbean where one can experience island living at its finest. While many tend to lump the Caribbean as one destination, each island is unique in its culture. Some of that may stem from whether or not they were ever British or French dependent territories," Cooper shared. "But for the most part, each island has its own rich history which is reflected in the people, the culture, and the food."
CHTA's mission is to serve as one of the world's leading tourism organizations. Members include national hotel and tourism associations representing private sector tourism interests - including accommodations, all tourism-facing industries and suppliers in and out of the region.
For more information about Caribbean305, visit www.caribbean305.com