By Daisy Cabrera
On the sunny afternoon of June 1, Miami Beach's Freehand hosted an equally sunny event – DRINK Miami Hostel. Now in its 4th year, more than 50 brands partnered with the sold-out event during this journey. Set inside the historic 1930's Art Deco landmark, attendees were given keepsake passports (complete with floor plans, and drink recipes) and invited to explore a wonderful world of spirits and beers.
And, what an incredible oasis of creative libations it was. Off we merrily go! Throughout the property's rooms, bungalows, courtyards, gardens and upstairs at 27 Restaurant - leading brands served up interactive stylish settings, dynamic décor, and completely decked-out experiences paired with specialty drinks much to the delight of 750 guests. As travelers were transported through the uniquely different encounters, collecting passport stamps all the while, they enjoyed showcased craft cocktails that highlighted the very best Miami has to offer.
Co-founders and partners Gabe Urrutia and Giovanny Gutierrez said, "DRINK Miami says a lot about how Miami's drinking culture has evolved. Many always thought of Miami as a vacation spot with big colorful frozen daiquiris and mojitos, but we house some of the best bars in the world. Miami is a melting pot of cultures that lends itself to think outside the box, and create some extraordinary tastes and flavors. Look at our spirits culture, and you definitely see more growth from consumers demand with the amount of bars, breweries and brands popping up."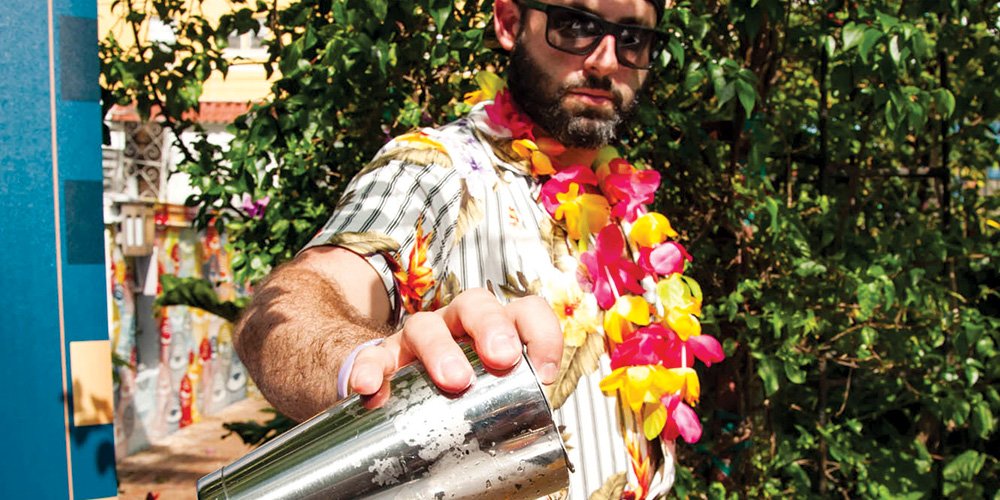 Miami is synonymous with all things premium, and DRINK Miami presented the ultimate top shelf voyage: Grey Goose, Ketel One, Tito's Handmade Vodka, Milagro, Montelobos, Mi Campo, Casamigos, Monkey Shoulder, Writer's Tears, Redemption Rye, Flor de Caña, Barceló, Bacardi, Waterloo, Bombay Sapphire, Plymouth Gin, Copper & Kings, and a plentitude more!
That's a whole lot of spirited love happening. "We give priority to previous brands that support us year to year, and then allocate some rooms to brands that are just new to the market. We're very selective in our partnering process, making sure these are brands that are unique and different but at the same time can offer a bit education," shared Urrutia and Gutierrez. "We're big on education, and while we want the guests to have fun, we want them to leave with new information or a new favorite drink. DRINK Miami is as much about imbibing as it is exploring different worlds in the drinks universe."
This joyful expedition elevates Miami's cocktail culture while introducing new brands, new drink recipes, and new takes on traditional techniques. So many flavorful concoctions here: Blackened American Whiskey blended with ginger beer, lemon juice, and honey; Jägermeister meets cold brew coffee; Coconut Cartel's rum with coconut milk and a side of piña colada pop; Cumbé's aguardiente with passion fruit, champagne, sugar cane, citrus and Jamaican bitters; Leblon's caipirinha with St-Germain; Gem & Bolt's mescal livened up with grapefruit soda, fresh ginger/honey syrup, and a rosemary sprig; Gra'it's grappa and pink peppercom/sage syrup, grapefruit soda, lemon juice, and orange bitters; and lots, lots more.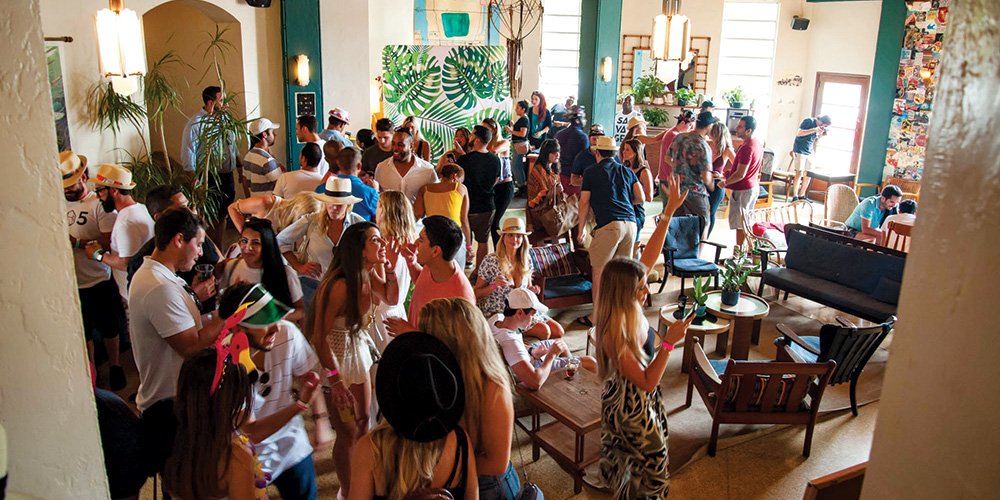 The individual experiences at DRINK Miami were next level. Veza Sur Brewing Co.'s hilarious, gray-haired Abuela welcomed guests while donning a walker, and wearing readers and a housedress. Arigato to Iichiko Saiten's room – a lovely tribute to Japan filled with gorgeous red light with beautiful Bangasa umbrellas sprinkled throughout. Their "Misedashi Martini" combined Iichiko Saiten (barley shochu), fino sherry, toasted matcha syrup, and plum bitters in a plum salt rimmed glass garnished with an origami crane. Ilegal Mezcal's whole vibe was fabulous: a Day of the Dead themed room with Mexican sugar skulls one minute, a disco-balled nightclub with DJ the next! Their welcoming "Love Your Neighbor" drink was parts mezcal, grapefruit juice, lime juice and tonic. And, Campari's Magic Garden treated tourists to an outdoor Italian escape filled with delizioso drinks - frozen Negroni, Aperol Spritz, etc. Ciao bella!
The Miami Hospitality Design Awards team, Josh and Aimet Oberhausen partnered up with DRINK Miami to recognize brand event managers.
Drumroll, please! Chinola was honored with the best themed experience trophy! Imagine a dynamic space straight out of the Dominican Republic - lively music, palm trees, Country Club sodas, crates of tropical fruit, hanging plantains, etc. Their drink, "Tigre Del Valle" mixed Chinola passion fruit liqueur, blanco tequila, turmeric honey, lemon, and fluffy saged pineapple. YUM!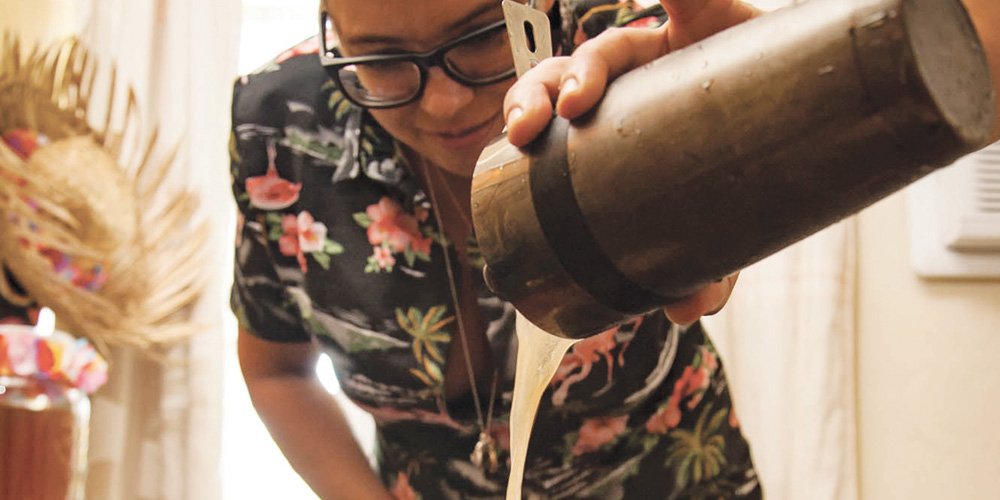 Bar Lab's co-founder, Gabe Orta was stoked to win. "The Chinola concept was inspired by a colmado, a Dominican version of a bodega. You see them everywhere in rural little towns, and you can get everything – cooking oil, fruits, condoms, cigarettes and pretty much anything you need." What makes Chinola so special? He told us passion fruit is a rare fruit to find at a market. "You'll mostly only find frozen purée. So, we wanted to create a liqueur that showcased the flavor of the fruit - organic passion fruits blended with Dominican rum that feels tropical and genuine." Cheers!
To learn more about DRINK Miami, visit www.drinkeverywhere.com