Tweet
Israeli Folk Dancing A Celebration of Cultural Diversity
- By Annie Sparks -
Throughout the 1900s, before and after the establishment of the State of Israel in 1948, Jews, immigrating to Israel from the Diaspora, brought with them different forms of dance. As music and dance are the purest expression cultural identities, the newly found State thus became a true melting pot of cultures, united by a common denominator - dancing as a celebration of freedom and diversity.
Today, Israel's heart continues to pulse in sync with all kinds of music; rhythms that originated from practically every continent on earth. Of course, the lyrics were changed to Hebrew. From many of these songs over 3,000 dances we choreographed to a set of steps, done exactly same way across Israel and around the globe. From Arabic inspired dances to Samba, and everything in between, you can find it all. Israeli folk dancing remains a popular recreational activity in Israel today, taking place in public areas and attracting over 100,000 dancers.
Some dances are done in circles, whereas others are performed in lines or by couples. The more advanced dancers meet on a weekly basis in organized classes all over Israel and in all parts of the world, reaching as far as Australia and Japan. Although Israeli dancing originated in the Jewish state, in the spirit of the cultural diversity it celebrates, there are many non-Jewish dancers.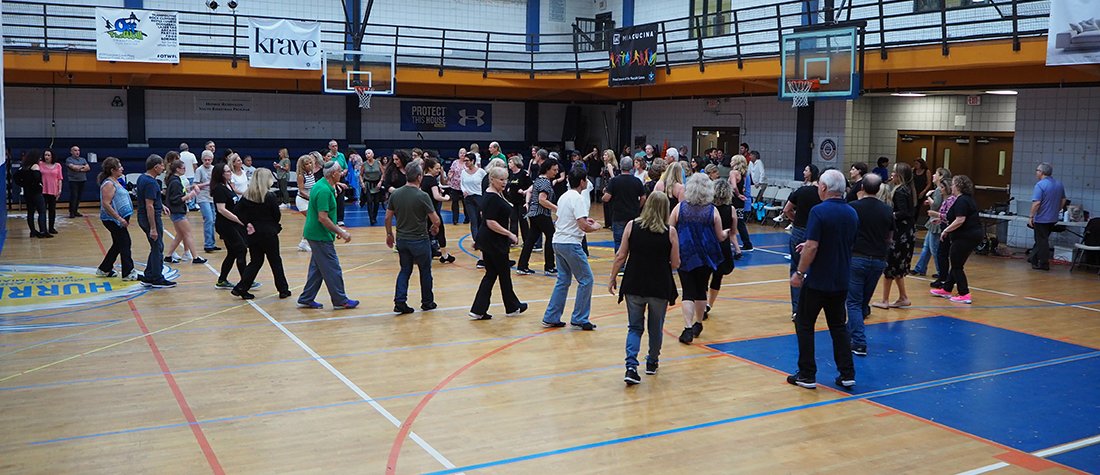 Hundreds of new dances are choreographed annually, but not all make it to the regular repertoire. Devoted dancers are used to the constant stimulation of learning new dances at a frenzied rate. As an observer, it is interesting to watch each personality express their version of a dance with an identical set of steps performed to the same music. Fun to watch, and certainly exhilarating to participate.
Just like a common tongue, for many, Israeli dancing carries a sense of community and belonging. Some attend dance marathons throughout the world. The largest one, of course, takes place in the city of Karmiel in Israel, and gathers more than 5,000 people to dance and learn (and do a little schmoosing while they're at it).
So, if you want to get a taste of this exciting form of self-expression, you're in luck. There are several Israeli dance sessions in South Florida, all offering beginners programs to get you into the groove. Once you learn the basic combination of steps, you can really start having some fun. Not only is dancing a great workout, but it is also fantastic exercise for the brain, a cognitive workout if you will, as you need to memorize different steps to every song. Who knows, you might even make a friend or two!
So, why don't you put something comfortable on and head over to a session near you. Consider yourself warned - once you catch the Israeli dancing bug, you'll be hooked!
Sundays in North Miami Beach
MAR JCC
18900 NE 25 Ave.
7:30 8:30 Beginners
8:30-11:30 All Levels
Cost: $5.00
For more information, contact Peggy dancemiami@hotmail.com
Tuesdays in Plantation
Soref Hall JCC
6501 W Sunrise Blvd.
7:30pm-8:30pm Beginners
8:30pm-11:30 All Levels
Cost: $7.00
For more information, contact Mali & Moshe malips25@hotmail.com
Wednesdays in North Miami Beach
McDonald Center
17051 NE 19 Ave.
8PM-8:30 Instruction
8:30-11PM All Levels
Cost: $5.00
For more information, contact Connie shoofni@comcast.net
Please note that there is no Israeli dancing during Jewish holidays, so be sure to check the holiday calendar before venturing out.