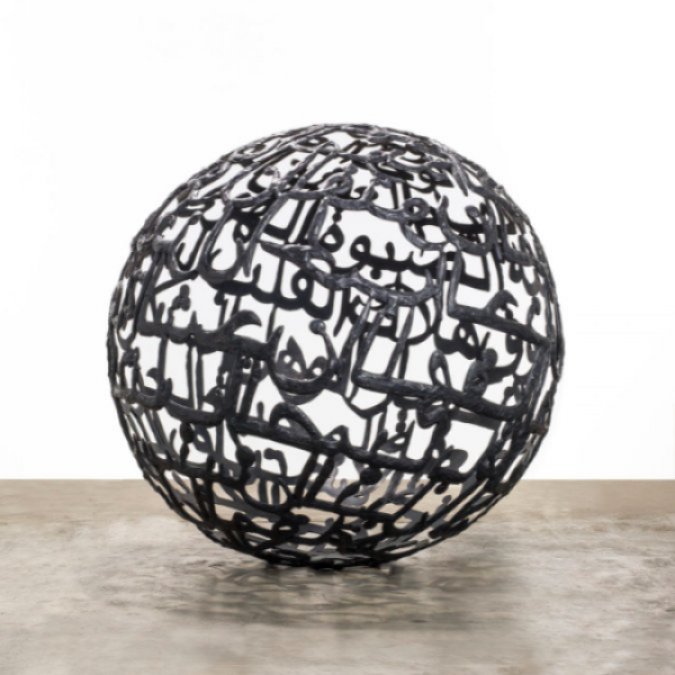 The High Museum of Art has announced a thematic exhibition featuring contemporary artworks from the early 1990s through the present that examine the different ways that one of the most powerful forces of life — love — is understood, expressed or perhaps left unspoken.
On view March 25-Aug. 14, 2022, "What Is Left Unspoken, Love" juxtaposes iconic works that represent watershed moments in the history of contemporary art, such as Felix Gonzalez-Torres's "'Untitled' (Perfect Lovers)" (1987-1990), with art of the past decade, including six works created especially for the exhibition, such as "Our Love Was Deeply Purple" (2021) by Alanna Fields. The exhibition will consider love as a profound subject of exploration from time immemorial that is nonetheless still relevant to the contingencies of 21st-century life.
"Recognizing that division and separation are prevalent in our current moment, it is only fitting to mount an exhibition focused on love: a universal theme that ultimately underscores what binds and strengthens us all," said Rand Suffolk, the High's Nancy and Holcombe T. Green, Jr., director. "Showcasing perspectives of artists from the past three decades, we hope that 'What Is Left Unspoken, Love' will remind audiences of the common thread that brings us together as families, friends, and as a community."
Works in the exhibition explore concepts of love from the most intimate of relationships between two people, through the ties that bind family and friends, to social movements that promote the worth and well-being of community. At its most epic, "What Is Left Unspoken, Love" deals with the family of humankind and its connection with the natural world, as well as the pursuit of wisdom or love of knowledge, while promoting the notion that love is worth analyzing at this moment, particularly as an agent of change and a force for good.
"Where I grew up, love is an embarrassing feeling that is often left as an understanding but not given voice," said the High's Wieland Family Curator of Modern and Contemporary Art Michael Rooks. "For many people, to say 'I love you' can be debilitating, so, a goal of the exhibition is to consider how love might be an empowering experience rather than an exercise in futility, as in the narrative arc of Carrie Mae Weems' 'The Kitchen Table Series'; something tangible rather than an illusion, like the functional black-glazed earthenware of Kahlil Robert Irving; or a moral virtue rather than an emotional weakness, as demonstrated in Patty Chang's 'Que Sera Sera/Invocations'."
"What Is Left Unspoken, Love" will include nearly 70 works, including painting, sculpture, photography, video, media art and installation, by more than 35 diverse and multigenerational artists based in North America, Europe and Asia. These artists include Ghada Amer, Rina Banerjee, Thomas Barger, Patty Chang, Susanna Coffey, James Drake, Keith Edmier and Farrah Fawcett, Alanna Fields, Dara Friedman, Andrea Galvani, General Idea, Jeffrey Gibson, Felix Gonzalez-Torres, Kahlil Robert Irving, Tomashi Jackson, María de los Angeles Rodríguez Jiménez, Rashid Johnson, Jana Vander Lee, Gerald Lovell, Rafael Lozano-Hemmer, Kerry James Marshall, Felicita Felli Maynard, Wangechi Mutu, Ebony Patterson, Paul Pfeiffer, Magnus Plessen, Gabriel Rico, Dario Robleto, RongRong&inri, Michelle Stuart, Vivian Suter, Carrie Mae Weems and Akram Zaatari.
The exhibition is organized around six themes that grapple with some of the most firmly rooted concepts of love:
"The Two" considers the union of a couple, who must form a relation to the world and not simply to each other's differences and subjectivities. The marriage of Chinese artist RongRong and Japanese artist inri was the inspiration for their collaboration titled "In Fujisan, Japan" (2001), featuring 16 photographs of a performance they staged at Mt. Fuji to commemorate and document their union as a newlywed couple.
"The School of Love" considers love in the home, where it is first felt, grasped and absorbed and where one learns how to be loveable and how to love. Weems's landmark photography project "The Kitchen Table Series" (1990) embodies this theme through photographs and text that portray and give voice to the demands and blessings, as well as the joys and disappointments, of family life from a woman's perspective from within the kitchen space.
"The Practice of Love" relates to the notion of a loving practice as something that comes from within and is expressed through action, intention, self-discipline and commitment, as conveyed aphoristically in Mississippi Choctaw-Cherokee artist Jeffrey Gibson's intricately embroidered punching bag "The Love You Give Is the Love You Get" (2020).
"Loving Community" is inspired by Dr. Martin Luther King Jr.'s vision of society based on justice, equality and brotherly love in which a love ethic encompasses relationships forged between friends, comrades and community in pursuit of a common good. Rashid Johnson's critically acclaimed 16mm film video "The Hikers" (2019) touches on how Black mobility and expression are limited and prescribed in the public sphere and suggests love's power to affect social transformation.
"The Poetics of Love" explores the expression of love in poetry and the multiple meanings inherent in poetic language, both visual and textual, as seen in Egyptian artist Ghada Amer's cast bronze sculpture "The Words I Love the Most" (2012), a hollow sphere composed of synonyms for the word "love" written backwards in Arabic. By choosing to present the words backwards, Amer plays with the indecipherability of love and the difficulty of capturing it in language.
"Love Supreme" refers to the ultimate embodiment of love in the unitary notion of God and considers premonitions of the divine in nature and culture that give way to reflection, contemplation and the pursuit of wisdom. This section includes works exhibited for the first time such as Magnus Plessen's suite of five paintings "Hoffnung, Liebe, Helium" ("Hope, Love, Helium") (2019-2021) and a unique edition of Rafael Lozano-Hemmer's immersive, interactive installation "Pulse Room" (2006), from the Museum of Modern Art's collection, partially powered by biometric data contributed by exhibition visitors.
Other highlights of the exhibition across these themes include a concise 25-year survey of Susanna Coffey's self-portraits; Rina Banerjee's commanding large-scale installation "Take me, take me, take me . . . to the Palace of Love" (2005); Keith Edmier's poignant collaboration with the late actress Farrah Fawcett titled "Keith Edmier and Farrah Fawcett 2000" (2000-2002); four recent works by Tomashi Jackson inspired by the signing of the 1965 Voting Rights Act; Felicita Felli Maynard's tintype and ambrotype archive of their imaginary queer ancestry; and an immersive installation of 24 paintings by Guatemala-based Argentine painter Vivian Suter.
"What Is Left Unspoken, Love" will be presented in the Cousins Special Exhibition Galleries on the Second Level of the High's Wieland Pavilion.